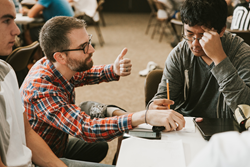 "I grew so much from this process . . . [Sawyer] not only guides students through the application process, but also helps motivate us to become the leaders of tomorrow."
LOS ANGELES, CA (PRWEB) July 29, 2016
In response to recently announced changes to the University of California's [UC] application requirements, Ethan Sawyer, better known as College Essay Guy (CEG), announces registration is open for his upcoming online course How to Answer the New UC Application Prompts. This much-anticipated online course will take place September 16-18, 2016 and was created for high school students seeking admission at any UC school as well as students' parents, college counselors and guidance counselors.
The 3-day intensive course features live training sessions with Sawyer as well as the opportunity to interact with peers and review example essays for all eight UC application prompts. The suggested rate to attend the online course is $199 for students and $349 for college counselors and parents of students. Those unable to afford the course can rest easy, as no one is turned away with College Essay Guy's signature "pay-what-you-can" option.
Completing these eight application writing prompts is now mandatory for all students applying for admission to any UC school. At the forefront of college admissions developments, Sawyer developed this upcoming course to help students go beyond simply fulfilling the new UC writing requirements.
"A stand-out response to the new UC application prompts features an uncommon topic, makes uncommon connections, and makes use of uncommon language," Sawyer explained. "The September course is all about these uncommon responses, and coaching applicants away from boring responses based on common topics, connections and language."
CEG alumna Tara H. worked with Sawyer to complete her application to UCLA last year, and is now gearing up to begin her first year there in the fall.
"I couldn't have picked a better leader to guide me through my college application journey and my first semester of Senior year," Tara said. "I grew so much from this process . . . [Sawyer] not only guides students through the application process, but also helps motivate us to become the leaders of tomorrow."
Students CA-, nation- and world-wide are invited to register for the online course, and all registrants will be provided 6-month access to course recordings and materials online via CEG's on-demand student portal.
For more information on Sawyer and CEG's live and on-demand offerings or to register for the upcoming course, we invite you to visit the CEG website.
ABOUT COLLEGE ESSAY GUY
College Essay Guy Ethan Sawyer has been helping students tell their stories for more than ten years. He has reached thousands of students and counselors through his webinars and workshops and has become a nationally recognized college essay expert and sought-after speaker. He is a graduate of Northwestern University and received an MFA from UC–Irvine.
He was raised as a missionary kid in Spain, Ecuador, and Colombia and studied at seventeen different schools. He's worked as a teacher, curriculum writer, voice actor, grant writer, theater director, motivational speaker, community organizer, and truck driver (true story). Sawyer is also a certified Myers-Briggs® specialist.
He is an active member of the Western Association of College Admissions Counselors (WACAC) and the National Association of College Admissions Counselors (NACAC). He lives with his wife and daughter in Los Angeles. For more information, visit http://www.collegeessayguy.com.
###