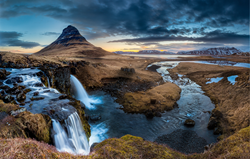 Iceland is a surprising country with some very talented technologists.
Hoboken, NJ (PRWEB) July 29, 2016
A NYC area retail technology consultant and MSP presents some of the unexpected facts about of Iceland, including the island nation's economic resilience and technology leadership. The company's connection to Icelandic business and fellow Microsoft Partner, LS Retail, is also discussed in a new article on the eMazzanti Technologies website.
The article lists surprising facts about the geography, population and global standing of Iceland. How the North Atlantic country figured prominently in two global conflicts is also explained. Two Icelandic technology companies provide examples of world leadership in their respective product categories.
"Iceland is a surprising country with some very talented technologists," stated Carl Mazzanti, CEO, eMazzanti Technologies. "Our partnerships there have greatly enhanced our customers' success."
Below are a few excerpts from the article, "Boiling Lakes, Elves, and a Technology Powerhouse."
"Eylenda, translated Island, lies directly between Greenland and Great Britain, just south of the Arctic Circle. It is a land of volcanoes, boiling lakes, and other-earthly scenes of waterfalls accompanied by Aurora's visual delights. People respect the land."
"Internet users would not expect to find Dohop, the world's best travel comparison website, in this small island nation. But there it is, helping global travelers find cheap flights by searching over 1,200 airlines and travel sites."
"LS Retail, another unexpected Icelandic technology success, provides award-winning complete retail POS, ERP and restaurant software systems, including cloud-based solutions. LS Retail solutions are used by over 55,000 stores, restaurants, service stations, airports, airlines and passenger vessels worldwide."
"Iceland runs almost entirely on renewable energy. It ranked as the 16th most-developed country in the world in 2014, just behind Great Britain and ahead of South Korea. It is home to the Startup Iceland Entrepreneur Conference, the Eistnaflug Rock Festival, Icelandic Design and the Rolling Snowball International Exhibition."
eMazzanti – Unexpected Partner to Icelandic Technology
Key retail technology strategic partnerships enable eMazzanti Technologies to offer retailers the very best in Microsoft-related technology, even when found in unexpected places. To strengthen the Iceland connection, CEO, Carl Mazzanti, makes regular trips to Reykjavík to meet with LS Retail leadership. He is also currently developing new partnerships with other rising Icelandic tech companies.
Related resource information:
eMazzanti Technologies Grows Azure Cloud Business 60X in 12 Months
eMazzanti Technologies Ranked 15th Among Top 100 Vertical Market MSPs
About eMazzanti Technologies
eMazzanti's team of trained, certified IT experts rapidly deliver cloud and mobile solutions, multi-site implementations, 24×7 outsourced network management, remote monitoring and support to increase productivity, data security and revenue growth for clients ranging from law firms to high-end global retailers.
eMazzanti has made the Inc. 5000 list six years running, is a 2015, 2013 and 2012 Microsoft Partner of the Year, and a 5X WatchGuard Partner of the Year. Contact: 1-866-362-9926, info(at)emazzanti(dot)net or http://www.emazzanti.net Twitter: @emazzanti Facebook: Facebook.com/emazzantitechnologies.