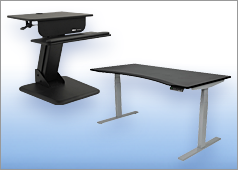 simple and cost-effective way to bring the health benefits of standing for part of the day into the workplace
Chicago, IL (PRWEB) July 28, 2016
Tripp Lite, a world-leading manufacturer of power protection and connectivity solutions, has introduced WorkWise™ solutions, a line of height-adjustable desk tops, bases and desktop workstations that help enhance efficiency and productivity while promoting a healthier ergonomic lifestyle by allowing the user to stand for a portion of the workday.
These workspace solutions provide the flexibility to change the work surface height with just the press of a button or one touch of a lever. The precise adjustment makes it simple to adapt a workspace for sitting or standing. Standing for a portion of the day has proven health benefits, so desks allowing both positions are ideal. Adjusting the height of the surface is also a simple way to customize workspaces shared by multiple users, a common practice in many offices.
Key Features of Tripp Lite's WorkWise Sit-Stand Solutions
-- Desks feature an electric motor with four memory settings for smooth and precise height adjustments; bases adjust from 23.5" to 49" quickly and quietly
-- Bases and desk tops work together to create a full ergonomic desk and are sold separately to provide a variety of color, shape and size configurations
-- Desk tops are made in the U.S.A. from environmentally friendly recycled wood fibers certified by the Sustainable Forestry Initiative
-- Desktop workstations adapt a traditional desk or table for sit-stand use without modifying the entire worksurface; a one-touch lever provides smooth and easy adjustments
-- Workstations include oversized keyboard trays to accommodate even the largest popular models
-- WorkWise products are compatible with Tripp Lite accessories, including display mounts and a clamp-on surge protector with USB charging ports
"Our new Workwise solutions offer users a simple and cost-effective way to bring the health benefits of standing for part of the day into the workplace," said David Slotten, Tripp Lite's Vice President of Product Marketing. "Whether the user chooses a desk or a desktop workstation, a simple touch is all it takes to achieve a precise desktop height."
For more information on Tripp Lite's new product line, visit: Workwise Solutions of Sit-Stand Desks and Desktop Workstations.
About Tripp Lite
Outstanding product reliability and exceptional service have been Tripp Lite trademarks for over 90 years. Tripp Lite´s innovations include the world's first UPS system designed specifically for personal computers and the world's most trusted premium surge protector—the Isobar®—with more than 19 million in use. Tripp Lite maintains the highest level of ready-to-ship inventory in the industry with more than 3,500 different products, including UPS systems, rack systems and cooling solutions, PDUs, PowerAlert software for enterprise-level system management and control, surge protectors, KVM switches, cables and connectivity products, inverters, power strips and notebook accessories. Headquartered in Chicago, Illinois, Tripp Lite maintains a global presence with fully staffed offices worldwide. Additional information, including a list of Tripp Lite's sales offices and authorized reseller partners, can be found by visiting Tripp Lite's website: http://www.tripplite.com.