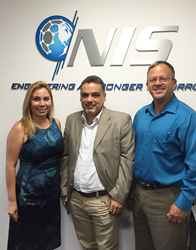 Avenel, NJ (PRWEB) July 28, 2016
"I've worked with traditional additives all my life with other companies and once I received the information about nanotechnology I knew I had to come meet the NIS team," says Franklin Ortiz, General Manager of Aponte & Asociados , SRL.
Nanotech Industrial Solutions is the only manufacturer of nano sized particles of Inorganic Fullerene-like Tungsten Disulfide. Using this cutting edge technology in their expanding product line of additives and greases NIS continues to define themselves as the leaders of this technology.
Franklin continues, "Sitting with the NIS team and learning about the technology was crucial in choosing to partner with them as a distributor.  When I left their office and remarkable laboratory I now felt I had the right tools and education to present the Dominican [Republic] to this technology."
Vice President of Sales and Marketing, Todd Cawley mentions "It was great to meet with Franklin.  Having a distributor like Aponte & Asociados , SRL. in the Dominican Republic will be a key factor in growth in this area."
"The shape, the extreme pressure characteristics and actual exfoliation of these nano particles is all very impressive.  The applications of use seem endless."
About Nanotech Industrial Solutions Inc.
Nanotech Industrial Solutions is the manufacturer of NanoLub®, an innovative nano lubricant based on inorganic particles of fullerene-like tungsten disulfide. These revolutionary particles were first developed in 1992 by Prof. Reshef Tenne at the Weizmann Institute of Science. The technology is exclusively licensed to Nanotech Industrial Solutions for commercialization Worldwide. NIS has attracted the best minds in the fields of nano technology, chemistry, and various targeted industry applications like lubricating oils, greases, coatings, metal working fluids, polymers and composites. NIS's global corporate office, commercialization R&D lab, manufacturing, blending and packaging facilities are located in Avenel, NJ.