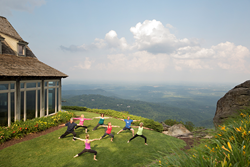 2016 Best of Best Awards from Ideal-Living Magazine
Greenville, South Carolina (PRWEB) July 28, 2016
The Cliffs, a collection of seven private, luxury residential mountain and lake communities and golf clubs located between Greenville, S.C. and Asheville, N.C., received three of Ideal Living's "Best of the Best" awards including "Best Lake Community," "Best Mountain View Community," and "Best Fitness-Focused Community" announced in its summer issue.
David Sawyer, President of The Cliffs Clubs, stated, "It's an honor to be recognized for not only the location of our seven communities, but also to be awarded for our focus on an active, healthy lifestyle. The Cliffs' members enjoy healthy, happy and high quality lake and mountain living. We look to provide a variety of ways for our members to engage in an active lifestyle that is suit for their personal goals and interests. Cliffs members enjoy six, soon to be seven, wellness centers, which include indoor and outdoor pools, spa rooms, fitness and training equipment, group classes and tennis complexes. In addition, we offer guided recreational activities with our Outdoor Adventure Specialists, over 43 miles of hiking trails inside the communities and state parks and national forests with over 75 waterfall hikes just outside the gates, a cycling program with 17-time Tour de France finisher and Cliffs Director of Cycling George Hincapie, wakeboarding lessons with world champion professional wakeboarder and Cliffs Wakeboard Coach Abby Delgoffe, an expert fitness team with some of the world's most elite credentials, and a culinary program focused on providing a daily wellness feature with locally sourced ingredients from our organic farm."
Ideal-LIVING Magazine recognized The Cliffs at Glassy for "Best Mountain View Community." "Best Lake Community" went to The Cliffs at Keowee Falls in Salem, S.C. Lastly, all seven of The Cliffs clubs were recognized as the "Best Fitness Focused Community." This is the first year of Ideal Living's "Best of the Best" Awards which provides readers the best in planned communities.
About The Cliffs
The Cliffs is a collection of seven premier private, luxury residential mountain and lake communities located in the Blue Ridge Mountains of the western Carolinas, between two of the nation's top award-winning cities for quality of life – Greenville, S.C. and Asheville, N.C. – and Clemson, S.C. – home to top-ranked Clemson University. The Cliffs' suite of amenities for members includes seven clubs, seven championship golf courses, six wellness centers, boating, watersports, marina, beach club, cycling, paddle sports, tennis complexes, equestrian center, hiking trails, wakeboarding, wine clubs, 50 restaurant and private event venues, an organic farm and more than 4,000 year-round social activities to create timeless experiences. Homes at The Cliffs range in price from $350,000 to $6 million+; homesites, from $125,000. For more information about The Cliffs, visit CliffsLiving.com or call 866-411-5771.
About Real Estate Scorecard:
Real Estate Scorecard writes unbiased real estate reviews providing in-depth information about popular gated communities in Florida, Georgia, the Carolinas, Tennessee and Central America, all in an effort to help people discover where to retire in the South.
Website: http://realestatescorecard.com