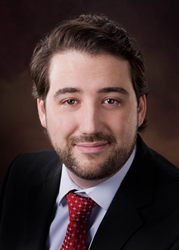 I believe excellent advocacy requires an adaptive approach, so I have gained the knowledge and experience necessary to represent clients in the court room and the board room, at the negotiating table, and before the bench.
(PRWEB) July 28, 2016
Daniel Abasolo, a Denton attorney, is joining the Springer and Lyle, LLP. Abasolo returns to the firm after spending some time at a larger firm and then operating his own private practice. Abasolo was a member of Springer Lyle in 2012 and rejoins to focus on family law and business transactions. He has focused much of his career on family law, earning recognition as a Rising Star in family law by Super Lawyers Magazine in 2015 and 2016. Mr. Abasolo has also distinguished himself in family law mediation, and has invested over 100 hours of continuing legal education in alternative dispute resolution and collaborative divorce.
"We are excited to have Daniel joining us again" said Frank Lyle, managing partner of Springer-Lyle. "We considered him a great asset when he was here and understood his desire as a young attorney to explore his options. His return means that we will be able to help more clients, particularly in the area of family law. As one of the Rising Stars of the legal community in Texas, we now have a family law attorney with the same level of dedication to excellence that our clients have come to expect from the lawyers who practice at our law firm."
Daniel Abasolo is a 2007 graduate of Texas A&M University. He earned his law degree at Texas Tech School of Law in 2010 and has practiced law in north Texas since passing the bar exam that same year. He is a highly experienced family law mediator and has advanced training in collaborative divorce. Abasolo's other legal passion is representing business clients especially tech companies and startups. He is a cofounder of TechMill, a Denton non-profit agency dedicated to fostering and growing technical talent and advocating for startup companies in North Texas. "I believe excellent advocacy requires an adaptive approach, so I have gained the knowledge and experience necessary to represent clients in the court room and the board room, at the negotiating table, and before the bench."
Springer-Lyle has been a Denton based law firm since 1994. Springer-Lyle represents clients in personal injury matters, trucking accidents, business and real estate disputes, family law, and business transactions. For more information about Springer-Lyle visit http://www.springerlyle.com