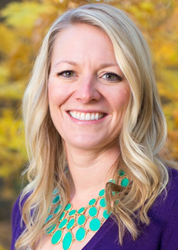 Mount Horeb, WI (PRWEB) July 27, 2016
Dr. Angela Cotey, trusted general dentist, is now accepting new patients for clear braces in Mount Horeb, WI, without requiring a referral. Traditional orthodontics may require years of treatment, but the 6 Month Smiles® system aligns crooked teeth in a significantly shorter time. The brackets and wires are virtually invisible because they match the color of the teeth, allowing patients to quickly straighten their teeth without drawing attention to their smile.
People who are self-conscious about crooked teeth may prefer to keep their mouths, limiting their facial expressions. Many individuals desiring to improve their quality of life turn to orthodontics to correct misaligned teeth and enjoy a greater sense of self-confidence. Having silver brackets and wires for two to three years may seem even worse of a problem to some, including the ongoing expenses of the visits that occur for the duration of this method. When weighing the benefits against the challenges, these factors often lead patients to determine traditional braces are not worth the trouble.
Dr. Cotey understands these real concerns, which is why she offers 6 Month Smiles® at her practice. Fewer visits and shorter appointments reduce the expense of the process, and those with clear braces in Mount Horeb, WI, are able to avoid the many years of pain and hassle from traditional metal brackets. The shorter timeframe also reduces the risk of tooth enamel damage and discoloration that sometimes occurs due to the placement of the brackets over a long period of time.
People who live in Mount Horeb, WI, interested in clear braces no longer need a referral to schedule an appointment with Dr. Cotey for 6 Month Smiles®. More orthodontics information is available on her website at http://www.villagesmilecare.com.
About the Doctor
Dr. Angela Cotey is a general dentist offering personalized dental care to patients in Mount Horeb, WI. Dr. Cotey and her entire team take pride in offering the latest advancements in dentistry and dental technology to ensure each patient enjoys a comfortable experience with long-lasting results. Dr. Cotey combines advanced dentistry with a fun and friendly style. She is a member of numerous professional organizations including the American Dental Association, the Wisconsin Dental Association and the World Congress of Minimally Invasive Dentistry. To learn more about Dr. Cotey or the services she offers, please visit her website at http://www.villagesmilecare.com or call (608) 433-2102 to schedule an appointment.