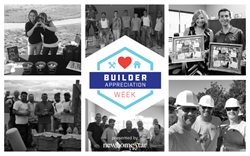 "This week was purposed with creating togetherness between our outsourced sales operations and their builder counterparts." - Corporate Citizenship Coordinator, Keli Kliebhan
Chicago, IL (PRWEB) August 05, 2016
This summer, homebuilders that partner with New Home Star received VIP treatment during the firm's inaugural Builder Appreciation Week. From July 18-22, sales professionals selling in new home communities took to creating personalized gift packages, organizing group outings and ordering plenty of pizza and cookie cake. More importantly, they were encouraged to express gratitude for the colleagues who work diligently each day to build the American Dream.
"It's so easy to get into a routine and take for granted all of the support that's provided by these hard working professionals," says Keli Kliebhan, Corporate Citizenship Coordinator for New Home Star. "Though we're always striving to convey how much we value these individuals, this week was purposed with creating togetherness between our outsourced sales operations and their builder counterparts. Social media was the main tool we used to implement our campaign, and sales agents were elated to show the meaningful ways they gave back."
Many turned to Facebook to share stories using the hashtag #BuilderAppreciation. Several dozen unique stories were shared, chronicling sales teams' gratitude for construction crews, builder executives and others in their partnering organization. In addition, New Home Star Founder David Rice spoke on the company's monthly YouTube live stream, discussing ways salespeople can better their relationship with builder partners. "It was incredibly special to see the heart of our sales team during this week," says Rice. "Our success is nothing without effective communication and collaboration with these builders. We want our clients to feel valued and cared for each and every day."
About New Home Star
New Home Star is a national real estate sales management firm serving homebuilders and developers across North America. They recruit, select and develop sales teams with a full-time focus on new home sales, working with some of the largest homebuilders in the U.S. and Canada, as well as small and mid-size companies. With a network of local sales divisions from coast to coast, New Home Star delivers sales solutions for businesses with a national perspective and a local presence. Their business goal is simple: To Sell More Homes More Profitably™. For the latest updates on new home sales, follow @newhomestar.