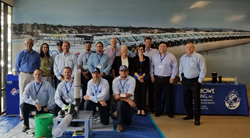 With the new injection cast lining, we can eliminate even more down time and save money for our customers.
San Diego, CA (PRWEB) July 28, 2016
Bill Howe opened AM/PM Sewer and Drains in 1979 and focused heavily on affordable drain cleaning and minor plumbing in San Diego. The following year, the name was changed to Bill Howe Plumbing and the company has continued to grow into one of the largest family owned and operated service and repair companies in the community. They have also had success in adding multiple divisions including restoration and flood remediation, heating and air conditioning, and epoxy relining solutions.
Bill Howe has been providing epoxy relining solutions for San Diego customers for over a decade. "We understand that the conditions of drain lines in the community vary," said Bill Howe, President, Bill Howe Plumbing "But, one thing is certain, invasive roots and corrosion of older pipes will affect many homeowners and commercial properties, adding on costly repairs. Traditional methods have always required digging and interruption of services. Our epoxy relining has been saving customers down time, money and increasing the lifespan of their sewer and drain systems."
In June, Bill Howe finalized a partnership with I.S.T. to purchase and use a new spray and brush lining technology (injection cast lining), widely used in Europe and some other areas across the county. The spray lining technology compliments the structural method currently in practice. The Epoxy relining crews spent several months training on site with I.S.T. with the new technology to begin implementing its use alongside the structural applications.
"We are excited to introduce this technology to our customers," said Eric Schaldach, Epoxy Relining Solution's Manager for Bill Howe Plumbing in San Diego. "With the new injection cast lining, we can eliminate even more down time and cost to our customers. It is also beneficial in high rise applications, or buildings that we cannot cut into walls to reinstate tie-ins."
On July 27, Bill Howe Plumbing hosted a live demonstration and presentation introducing the new Injection cast lining to building engineers, managers, and owners in san Diego. The entire epoxy relining team was present, as well as the San Diego representatives for the technology manufacturers, I.S.T. Included in the presentation was the Epoxy Relining Infomercial created to share with commercial customers.
For more information about epoxy relining solutions, or services offered, visit http://www.billhowe.com, or to speak with Bill or Tina Howe regarding this announcement, contact Bill Howe Marketing Director, Julie Riddle at Julie(at)billhowe(dot)com.
About Bill Howe Family of Companies
Bill Howe Family of Companies is comprised of Bill Howe Plumbing, Inc.; Bill Howe Heating & Air Conditioning, Inc.; Bill Howe Restoration & Flood Services, Inc. The family-owned and operated company began in 1980 with the plumbing division and has grown into San Diego County's largest low-cost one-stop-shop for service, repairs and installation, offering both residential and commercial services. 9085 Aero Drive, Suite B, San Diego CA 92123. Call 1-800-BILL-HOWE because We Know Howe!
###