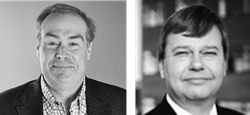 Yorba Linda, CA (PRWEB) July 27, 2016
QIAGEN N.V. is sponsoring a new, free educational webinar titled "Reference Architectures for the QIAGEN Biomedical Genomics Solution." The conversation will feature joint discussion between key bioinformatics industry leaders and will be pertinent to NGS researchers who need to cost-effectively scale up their genome analysis workflows. The free webinar will be presented on August 2, 2016, at 8 am PT/11 am ET.
The webinar will feature a conversation between Mikael Flensborg, director and solution lead for QIAGEN Bioinformatics' High Volume Sequencing Solutions and Michael McManus, PhD, senior health and life sciences solution architect for Intel. They will discuss their companies' recent collaboration to devise a reference architecture that generates high-volume whole-genome data analysis which helps researchers streamline their next-generation-sequencing workflows. The collaboration combines the QIAGEN Biomedical Genomics Solution with the Intel Scalable System Framework, and Intel's vast optimization efforts of life sciences software codes, comprises the new hardware architecture. This architecture lessens the need for purpose-built systems — and instead provides a more flexible and scalable system for genomics workloads.
The webinar will also focus on recent code optimization activities and vendor-specific examples of reference architectures for the QIAGEN Biomedical Genomics Solution — including metrics for estimating the recommended cluster size based on the size of the genomic workload. Attendees will learn about Intel's efforts in its Code Optimization and Scalable System Framework, how to build their own genomics cluster using products from common hardware companies, sizing the genomics cluster to meet their needs, and expanding their cluster to accommodate growing needs. PACE Continuing Education Credits will be offered.
QIAGEN Bioinformatics' Mikael Flensborg has more than 30 years of combined experience in the software industry, from bioinformatics software, architecture and servers, to the Developer Kit, and has been instrumental in building strategic alliances and research collaborations for QIAGEN Bioinformatics. Dr. McManus is involved in Intel's effort to promote the use of modern computational solutions in the healthcare and life sciences markets. He hails from Knome, where he was the senior vice president of operations and the designer of the knoSYS hardware appliance for processing genomic data as part of the genome interpretation process used in a clinical setting. Dr. McManus has a 30-year history in the scientific software and hardware sector in wide-ranging roles. He received a PhD in synthetic organic chemistry from the Massachusetts Institute of Technology. The presenters' complete bios are found on the LabRoots website.
For full details about the event, obtaining continuing education credits, and free registration, click here.
About QIAGEN:
QIAGEN offers industry-leading applications for the analysis, interpretation, and reporting of biological data. Understanding raw data is one of the most significant challenges in modern molecular methods. Data must be examined within the context of complex biological processes, and rapidly increasing throughput makes analyses time and labor intensive. QIAGEN's portfolio of powerful tools addresses this bottleneck with innovative applications based on cutting-edge bioinformatics. Bioinformatics software and knowledge bases interpret data to report relevant, actionable insights. QIAGEN provides solutions to more than 500,000 customers around the world in molecular diagnostics, applied testing, pharma, and academia.
About LabRoots:
LabRoots is the leading scientific social networking website and producer of educational virtual events and webinars. Contributing to the advancement of science through content sharing capabilities, LabRoots is a powerful advocate in amplifying global networks and communities. Founded in 2008, LabRoots emphasizes digital innovation in scientific collaboration and learning, and is a primary source for current scientific news, webinars, virtual conferences, and more. LabRoots has grown into the world's largest series of virtual events within the Life Sciences and Clinical Diagnostics community.