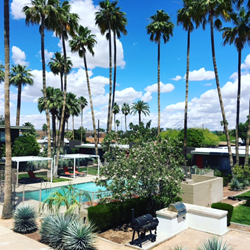 I looked at over 50 deals in 4 states before purchasing this asset: I knew the 4-acre parcel would attract a premium selling price to a developer. I buy location and land size first and foremost.
Phoenix, Arizona (PRWEB) August 09, 2016
Hewson Investment Group (HIG) has just sold its 51-unit apartment community, 18 at Biltmore, for $6,045,000. The sale, facilitated by Patrick Burch at ABI, sets the high-water mark per unit for B-class apartments in the area, and comes on the heels of Hewson's record-setting land sale 24 months ago in Old Town Scottsdale to Deco Communities, developers of the Envy condo tower. This latest sale pushes HIG to over $30 million in transactions in the past 24 months, by far the most active period in the company's history.
CEO Gary Hewson Jr. noted that although he loved the strengthening apartment market in the Biltmore area, the offer was just too good to pass up: "I never intended to sell the complex so quickly after acquisition, but I was offered a great price by another developer who recognized the value of the land. I looked at 50 deals in 4 states before I purchased 18 at Biltmore. The 4-acre parcel size was the deciding factor. My gut instinct paid off: The area has really taken off in the past year and is ripe for redevelopment."
In October 2015, HIG and Everest Holdings sold Hotel Indigo in Old Town Scottsdale for over $18 million. Hewson and Everest co-developed the 126-room hotel in 2006 and owned it jointly.