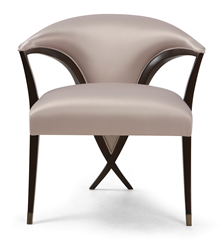 "We are at such a magnificent time in our history...it's such an exciting time for Christopher Guy and we're overjoyed to be able to start celebrating here." - Christopher Guy Harrison, founder, CEO and lead designer of Christopher Guy
Las Vegas, Nev. (PRWEB) July 28, 2016
Christopher Guy, an innovative brand leader in the luxury furnishings industry, will hold a press conference on July 31, the opening day of 2016 Las Vegas Summer Market.
Christopher Guy Harrison, founder, CEO, and lead designer of Christopher Guy, and Bob Maricich, president and CEO of International Market Centers (IMC), will sign the lease for a new state-of-the-art CG showroom constructed in High Point, NC. Ground breaking in August 2016 is the next step of the planning process that will culminate in a Grand Opening celebration to be held in the new location during April 2017 High Point Spring Market. Christopher Guy will also celebrate its first Decade of Design throughout 2017 with worldwide commemorations of its 10th anniversary.
"We are at such a magnificent time in our history with the new showroom being built in High Point, new strategies in our New York and West Hollywood showrooms, the recent grand opening of CG Chicago, and continued success in our fabulous extended Las Vegas showroom." said Mr. Harrison. "It is such an exciting time for Christopher Guy and we're overjoyed to be able to start celebrating here."
Following the contract signing, media will have the opportunity to join in a conversation with Mr. Harrison and Paul Watson, President of CG-Americas, as they discuss future plans and reflect on CG's first Decade of Design—from Christopher's patented Chris-X legs to other timeless, elegant designs that make the brand's pieces uniquely Christopher Guy.
To RSVP, please email cgpr(at)brandamb.com by July 30. The press conference will be followed by a champagne reception at the Christopher Guy Las Vegas showroom (495 S. Grand Central Parkway, Suite A – 100, Las Vegas, NV)
ABOUT CHRISTOPHER GUY
Christopher Guy Harrison, an award-winning internationally renowned designer, is the founder and CEO of luxury furnishings brand, Christopher Guy. His creations were brought to life in the mid-90s when he set out to create the world's most fabulous and unique mirror frame collection under the name Harrison & Gil. He began building his workshops after acquiring a plot of land in Java, where he sourced the best craftsmanship from local artisans. Today, these workshops cover more than one million square feet, and Christopher Guy has evolved to creating a complete luxury lifestyle that offers timeless values.
With presence in over 42 cities including showrooms throughout North America, Europe, Asia, and the Middle East, Christopher Guy offers a fresh approach to design, transcending modern, traditional, and cultural boundaries. Christopher Guy creations are selected by leading designers and retailers, from the grandest hotels and most spectacular resorts, to the world's finest residences. The brand's stylish appeal and often elaborate aesthetics have led to cameo roles in many iconic movie productions such as; Casino Royale (007), Ocean's Thirteen, The Hangover, The Devil Wears Prada, Charlie's Angels 2, and The Interview.
Whether as statement pieces in luxurious hotels or on Hollywood film sets, Christopher Guy's timeless and elegant designs are widely acclaimed as the world's most fabulous decorative furnishings.
For more information, please visit http://www.christopherguy.com or contact cgpr(at)brandamb(dot)com
###