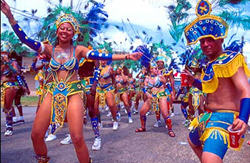 we're seeing an increase in people coming from all over the world
San Ignacio, Belize (PRWEB) July 30, 2016
The people of the tiny Central American nation of Belize are already gearing up for their big September independence celebrations and The Lodge at Chaa Creek is suggesting that now is the time for North Americans to consider joining the party.
Elsie Pacheco, Chaa Creek's reservations administrator, is predicting another record turnout for this year's September Celebrations, as Belize's month-long Independence party is known, and advises that people consider booking now if they wish to take part in the excitement.
"As word about how much fun September in Belize is spreads, we're seeing an increase in people from all over the world, but especially the USA, Canada, as well as Europe and Belize's mother country of England wanting to join in the celebrations," Ms Pacheco said.
"When you consider what a cultural melting pot Belize is, and how colourful our history is, I suppose it's not really surprising," she added.
Ms Pacheco said similarities in the American and Belizean experiences – both English speaking, culturally diverse nations who fought for their independence, value democracy, education and a high degree of religious and other freedoms, is another attraction that draws a growing number of Americans to Belize each year and sustains a large Belizean diaspora in the US.
"We have so much in common that it's no wonder we enthusiastically celebrate each other's independence days," she said.
The former Crown Colony of British Honduras peacefully achieved independence from England on September 21, 1981, the same month and year Chaa Creek opened its doors as Belize's first true eco-resort, Ms Pacheco explained.
Since then, both the country and the resort have experienced surprising degrees of growth.
"Belize was just this tiny farming and fishing country that hardly anyone heard of, and Chaa Creek Cottages, as it was first called, was Mick and Lucy Fleming's small farm that began hosting visitors with two very simple one-room cabins built with thatched roofs and materials from the surrounding jungle.
"People obviously liked what they saw, because Belize and Chaa Creek both just took off," she said, adding, "There was also lot of hard work and dedication between then and now."
Belize's September Celebrations include the bank holidays Independence Day on the 21st and St George's Caye Day on September 10th, which commemorates a decisive battle that took place off the small island of that name on what is know known as the Belize Great Barrier Reef – the world's second largest after Australia's. Defeating a much larger, professional Spanish invasion force off St George's Caye rallied the members of the nascent settlement - loggers, pirates, shipbuilders, slaves and others, and is seen as one of Belize's first steps towards nationhood, culminating with the September 21st 1981 grant of independence from the UK.
In the three and a half decades since independence, Belize evolved from an agrarian to a tourism based economy with a sharp rise in the standard of living for its citizens, and the Lodge at Chaa Creek now boasts a wide range of accommodation, from signature cottage style rooms to suites and villas that have housed celebrity and VIP guests including well-known actors, musicians, and members of England's Royal Family, to more budget bungalow-style accommodations at Chaa Creek's Macal River Camp.
The cottages still have thatched roofs, but the amenities have grown to include a fine dining restaurant and lounge featuring sophisticated farm-to-table dining, an internationally recognised Hilltop Spa, comfortably stylish infinity pool and full service conference centre, stables and canoe landing. Onsite attractions include a natural history museum, live butterfly breeding exhibit, and miles of well maintained trails providing access through a 400 acre private nature reserve with some 70 ancient Maya archaeological sites, a Maya medicinal plant trail and traditional Maya organic farm that supplies the resort and its in-town Guava Limb Café, which was acknowledged as "Belize's best restaurant 2015" by the Belize Tourism Board.
"To say 'We've come a long way' doesn't quite to justice to what's happened to Belize and Chaa Creek over the last thirty years," said general manager Bryony Fleming Bradley, who with her brother Piers grew up at Chaa Creek.
"We have a lot to be thankful for, and that's what you see during the September Celebrations, and what makes them so lively," she said.
Ms Bradley said that Chaa Creek's pristine rainforest location on the banks of the Macal River allows guests to participate in the month-long revelry yet retire to peace and quiet and enjoy the many onsite activities when they wish.
"It's the best of both worlds," she said.
Ms Pacheco said reservations are already being taken for the 2016 September Celebrations and now is the time for interested travellers to learn more and make bookings.
"By doing a bit of research and booking now, people can be assured of getting the most out of September; both from the celebrations and as a tailored made vacation that satisfies a wide range of interests. We encourage people to contact us and have our adventure specialists work with them to create the perfect, personalised vacation," Ms Pacheco said.
The Lodge at Chaa Creek is a multi award winning eco resort set within a 400-acre private nature reserve along the banks of the Macal River in Belize.
ENDS