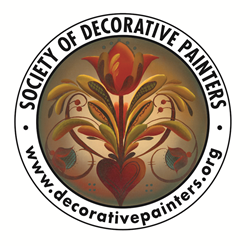 "The move will provide our staff and visitors with improved working conditions and better connections to the local art district," - Kathy Swigon, President of the SDP Board of Directors
Wichita, Kansas (PRWEB) July 28, 2016
The Society of Decorative Painters (SDP) today announced it has relocated its headquarters to downtown Wichita at 1220 E. First St., Wichita, Kansas 67214.
"The move will provide our staff and visitors with improved working conditions and better connections to the local art district, thus furthering our mission to recognize and encourage the diversity and excellence in all styles of painting," said Kathy Swigon, President of the SDP Board of Directors.
The International Museum of the Society of Decorative Painters (IMSDP), which includes over 150 decorative art pieces spanning from SDP's 44 year history, will continue to operate through the funding of the SDP Foundation. The Museum is expected to reopen to the public in the early fall.
With the new office located just east of Old Town, Wichita, SDP joins the community of more than 100 businesses that operate in the up and coming area, which has become sought out for its restaurants, shops, theaters, galleries and museums.
SDP previously owned and operated at 393 North McLean Boulevard, Wichita, Kansas 67203 for 20 years.
"The place was entirely too large for our staff and needs. The sale of the building will eliminate a large, unnecessary expense that we have been incurring," said Swigon. "We're looking forward to settling into our new downsized space and meeting our neighbors!"
For more information about SDP and the IMSDP, visit http://www.decorativepainters.org.
ABOUT THE SOCIETY OF DECORATIVE PAINTERS (SDP)
SDP is a membership organization with members throughout the United States, Canada, Japan and 42 other countries. It has over 200 affiliated chapters that actively promote the art form through community service projects and painting-related activities. SDP publishes the industry's leading decorative painting magazine, The Decorative Painter, and hosts one of the largest annual decorative painting conferences and expos that draws worldwide artists. For more information, visit http://www.decorativepainters.org.