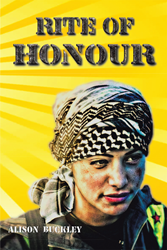 I believe they are due autonomy in the region and respect on the world stage.
SYDNEY (PRWEB) August 08, 2016
No matter the location, women can endure horrific circumstances in life. But what happens when they form their own military forces against a deadly enemy and take the front line in the battle to protect the world from ISIS terrorism?
In "Rite of Honour," author Alison Buckley writes a fictional story based on years of research into the culture and history of Kurdistan, its people's struggle for self-determination and human rights and its women warriors' fight for equality for all women.
"Kurdish women's feminism leads in today's Middle East and maybe even the world," Buckley said. "By taking on the same roles as male fighters, the Kurdish female fighters have proved that women are just as capable of defeating a more numerous and heavily armed enemy as men."
Buckley has spent many years researching and studying the history of the Kurds and their political, military and social struggles. Buckley is also the author of "Vashti Queen of the Ancient Medes" and "Esther Queen of the Medes" and has sourced the modern Kurdish people's experiences, stories and beliefs to portray their freedom movement.
"Before I discovered a 'world heritage treasure' in the Kurdish people, I knew little about them," Buckley said. "But when I learned of their centuries long subjection to serial genocidal attacks and the ongoing theft of their lands and resources I was driven to write. I believe they are due autonomy in the region and respect on the world stage."
For more information, visit http://www.alisonbuckley.net.
"Rite of Honour"
By Alison Buckley
ISBN: 978-1-51444-491-7
Available in softcover, hardcover, e-book
Available on Amazon, Barnes & Noble and XlibrisAU
About the author
Alison Buckley taught high school English and history after completing an arts degree in politics and history. Further studies in law and religion were followed by a social science degree and drug and alcohol counseling with young people. Her first two novels featuring the feminism of the ancient Middle Eastern Kurds inspired her third work on today's women guerrilla fighters of Kurdistan.
# # #
For review copies or interview requests, contact:
Elizabeth Coomer
317.602.7137
ecoomer(at)bohlsengroup(dot)com