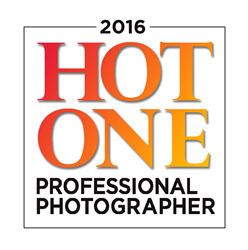 Glow's 8x8 Portable Butterfly Light Modifier has been recognized by Professional Photographer magazine with a 2016 Hot One Award
New York, NY (PRWEB) July 28, 2016
Glow, the award-winning brand of high quality light modifiers for professional photography and video production, has announced that its Glow 8x8 Portable Butterfly Light Modifier has been recognized by Professional Photographer magazine with a 2016 Hot One Award. Awarded annually, the Hot Ones are Professional Photographer magazine's selection of the year's most notable tech products in the industry based on functionality and value for professional photographers.
The 2016 winners will be featured in the August issue of Professional Photographer in addition to being highlighted on Professional Photographer's website beginning August 1, 2016.
For more than a 100 years, Professional Photographer magazine has been a leading international non-profit association for professional photographers, offering readers the latest and most up-to-date industry news, business, technology and more. This year marks the 17th annual Professional Photographer Hot Ones Awards, set to be better than ever with a newly retooled and revamped buyers' guide of notable, topnotch products. Selections are based on overall quality, innovation, design, performance, functionality and price.
The Glow 8x8 Portable Butterfly Light Modifier was designed to be lightweight for easy assembly and transportation. Overall, the portable butterfly's main function is to transform any light source to a softer, more controlled light for any professional in the industry.
For more information on the award and a full list of Hot One winners , please visit http://www.ppmag.com/gallery/hot-one-2016-picks.
About the Glow 8x8 Portable Light Modifier
The Glow 8x8 Portable Butterfly Light Modifier is a collapsible aluminum frame that can be easily assembled and transported thanks to its lightweight structure. This light modifier includes interchangeable fabrics that can transform any kind of light source from hard to soft, and raw to controlled. The kit includes a white diffusion and bounce fabric, a light absorbing black fabric, as well as a solid chroma green cloth to add versatility for any photographer or videographer looking for a digital background substitution. This kit also includes a travel case which contains the frame and the three fabrics.
Pricing and Availability
The Butterfly Light Modifier is now available from Adorama for 399.95 USD (regularly 499.95 USD). For more information and to order, please visit http://www.adorama.com/GLPR8BFK.html.
About Glow
The Glow line of light modifiers for photography and video is comprised of universal lighting accessories that mold and shape light, changing its quality and bringing its function to a whole new level. Fully compatible with all brands of strobes and lights, Glow umbrellas, softboxes, reflectors and beauty dishes are crafted of the highest quality materials for durability and longevity. Innovative designs make our modifiers easier to use, bringing advanced lighting setups and tools within reach of the creative vision – and budget – of every photographer. 
The Glow QuadraPop 28"x38" portable softbox was honored with a 2015 Popular Photography POP Award, making the list of "Best Photo Gear of the Year." Glow's Grand Softbox was named Best in Show by Professional Photographer magazine in its 2014 Hot Ones Awards. Available exclusively at Adorama, customers can visit the Glow brand store online to buy.
ADORAMA: More Than a Camera Store
Adorama is more than a camera store – it's one of the world's largest photography, video, audio and computer retailers. Serving customers for more than 40 years, Adorama has grown from its flagship NYC store to include the leading online destination for imaging and consumer electronics. Adorama's vast product offerings encompass home entertainment, mobile computing, and professional video and audio, while its services include an in-house photo lab, AdoramaPix; resources and gear for photographers, filmmakers, production studios, broadcasting and post houses, and recording artists through Adorama Pro; pro equipment rental at Adorama Rental Company; and the award-winning Adorama Learning Center, which offers free creative education in online channels such as the popular Adorama TV.
Adorama is listed as one of the top five electronics retailers by Consumer Reports, "Best of the Web" by Forbes.com, Internet Retailers Top 100, and is the official Electronics Retailer of the NY Giants.