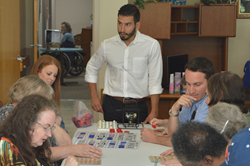 Asheville, NC (PRWEB) July 28, 2016
Aeroflow Healthcare employees joined the residents at the Marjorie McCune Memorial Center for an afternoon of Bingo fun.
A group of volunteers from Aeroflow Healthcare assisted the residents with an afternoon of entertainment with games and prizes. The residents enjoyed the smiling faces of the volunteers as they competed in friendly games of Bingo.
"We had a lot of fun spending time with the residents and it was a pleasure to get involved with our community, " expressed Ashlie Groff, Aeroflow Director of Finance. "We made some new friends, and hopefully, can join them again soon!"
The Marjorie McCune Memorial Center is an assisted and independent adult care facility. The quality care center is located in Black Mountain, NC and is operated by the Lions of Western North Carolina.
The Aeroflow Community Outreach group was designed so the company can be more engaged in local programs and to improve community involvement. The community outreach program is planning to help out with more local events throughout the year.
Aeroflow Healthcare was founded Asheville, NC in 2001, as a home oxygen provider, and has since grown as one of the leading durable medical providers nationwide. Aeroflow is an accredited Medicare and Medicaid provider and accepts most commercial insurances.
If you have any questions about Aeroflow Healthcare's volunteering programs, or if you have interest in their durable medical services, you can reach them by calling (888) 345-1780 or visiting http://www.aeroflowinc.com.