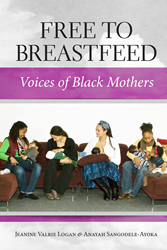 Black women DO breastfeed. Come hear their stories for yourself.
Amarillo, Texas (PRWEB) July 31, 2016
In recent years there has been an increased awareness about the disparities in breastfeeding rates among minorities in the United States. In the U.S., Black infants die at much higher rates than White counterparts. According to the U.S. Census Bureau, the rate for infant mortality was 5.6/1000 for whites and 13.3/1000 for Blacks. Recent Calls to Action from the African American community have asked healthcare workers to become aware of how the current structure of healthcare coupled with cultural attitudes, plays a role in perpetuating these disparities.
Praeclarus Press is a committed Ally to the African-American community, and works to offer educational breastfeeding resources for healthcare professionals and parents that demonstrate how to best support underprivileged populations. In March 2014, Free to Breastfeed: Voices of Black Mothers, compiled and edited by Jeanine Valrie Logan and Anayah Sangodele-Ayoka, was published. Their goal was to offer support through stories of challenges and triumph, that were not yet seen for Black mothers who want to breastfeed. For Black Breastfeeding Week, please enjoy 20% off of this and all titles when checking out in the online store. Visit the store and use code WBW2016PP when checking out.
Praeclarus webinars focusing on health inequities in the African American community and how the current health care system can work to become Allies of these families. Available for viewing at no charge are: Uncovering the power of #BlkBfing, Depression is Black!, Understanding Inequality in Lactation Management, For Allies Only, and Welcoming African American Women Into Your Practice: Seven Steps to Creating a Culture of Respect and Inclusivity. Use code BLKBFING2016 in the online store when checking out.
Praeclarus Press is a small press specializing in women's health owned by health psychologist and lactation consultant, Kathleen Kendall-Tackett, PhD, IBCLC, FAPA. Praeclarus means excellent. Praeclarus Press' mission is to provide books and other educational materials that change women's lives. Praeclarus Press is based in Amarillo, Texas.