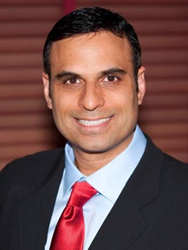 Oakbrook Terrace, IL (PRWEB) July 28, 2016
Dr. Amarik Singh has now placed over 15,000 dental implants for patients with single or multiple missing teeth for the Chicago community. As a renowned periodontist, Dr. Singh encourages patients with damaged or missing teeth to learn more about the benefits of receiving dental implants at his Oakbrook Terrace, IL practice. Dr. Singh is experienced in utilizing a variety of minimally-invasive techniques to provide long-lasting, comfortable care for his patients.
Dr. Singh is not only dedicated to his patient's comfort during the procedure, but their overall health as well. That is why he has invested years of experience and training of his craft to offer the latest techniques and technologies in the field of Implantology. Dr. Singh offers single implants as well as the All-on-4® technique that allows patients with low bone density to receive a new full arch of teeth using only four strategically placed implants. Periodontal Implant Associates utilizes Sirona Galileos 3D CT imaging technology to capture precise, reliable and comprehensive 3D X-ray images. This diagnostic tool only takes 15 seconds to use and enhances treatment planning of each implant placement allowing for a completely customized experience. Advanced 3D imaging, cutting-edge surgical technology and guided placement allow Dr. Singh to place implants with a high success rate and minimal patient discomfort.
Dental implants are a beneficial option for many patients with missing teeth because they stimulate jaw bone growth and promote a very natural appearance. They are also highly reliable once they have integrated properly into the patient's jaw bone and are known to provide proper functionality for a lifetime as long as they are well cared for. Patients who wish to experience the most effective long-term results from dental implants are encouraged to brush and floss them daily just as they would for their natural teeth. Regular checkups are also advised in order to achieve maximum success with dental implants and improve overall oral health.
Patients with missing teeth are now invited to receive dental implants in Oakbrook Terrace, IL from Dr. Singh. As a compassionate and highly respected periodontist, Dr. Singh is committed to offering cutting-edge treatment techniques that deliver positive long-term results. Appointments can be made by calling Periodontal Implant Associates at (630) 424-9404.
About the Doctor
Periodontal Implant Associates is a periodontal practice offering personalized dental care for patients in Oakbrook Terrace, IL and the Chicago area. After graduating from Northwestern University Dental School, Dr. Amarik Singh went on to obtain his Specialty Certificate in Periodontics and earn his Master's from Northwestern University. Dr. Singh is deeply committed to continuing education and prides himself on remaining on the cutting-edge of the newest techniques and technology in dentistry. Dr. Singh has placed over 15,000 dental implants using a minimally-invasive technique and is part of an elite group of dental professionals at the forefront of the Chao Pinhole® Surgical Technique (PST™), a revolutionary new approach to repairing gum recession. To learn more about the periodontal services available at Periodontal Implant Associates, please visit http://www.pidentists.com or call (630) 424-9404.