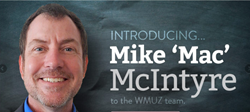 We are thrilled to become a sponsor for McIntyre's "Church On The Go" segments. This opportunity fits in perfectly with the three core values of our company.- Frank Farmer, President- AMR
Detroit, Michigan (PRWEB) July 29, 2016
American Metal Roofs (AMR) is pleased to announce that beginning in August, they will be starting a radio sponsorship on Detroit's #1 Christian radio station. AMR will sponsor the new Mac McIntyre show on WMUZ in Detroit. McIntyre is taking over for the long-time host Robin Sullivan after recently finishing 10 years in Nashville, Tennessee, hosting a successful Christian morning show.
The sponsorship includes McIntyre's weekday program that airs from 4PM-7PM, Monday through Friday. AMR will also sponsor his monthly "Church On The Go" live broadcasts from selected churches throughout the Detroit metropolitan area.
"We are thrilled to become a sponsor for McIntyre's weekday show and his "Church On the Go" segments. This opportunity fits in perfectly with the three core values of our company; God first, family values and business ethics." Frank Farmer- President- American Metal Roofs.
Mac's broadcast airs from 4-7PM on Detroit's WMUZ 103.5 The Light.
About American Metal Roofs: American Metal Roofs provides residential and commercial metal roofing products and services for the Michigan Lower Peninsula.American Metal Roofs, specializes in installing metal roofing from the leading manufacturers of permanent metal roofing. http://www.americanmetalroofs.com