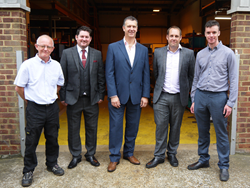 We have some significant opportunities open to us that will ensure that the company has a secure and prosperous future.
St Leonards on Sea, East Sussex (PRWEB UK) 29 July 2016
Focus SB Ltd® is a British sockets and switches manufacturer that has been dedicated to developing and producing plates of unparalleled quality for over 30 years, specialising in hotel switch-plates. Quality components, inserts and materials are used to design and produce stylish ranges of electrical accessories, with a comprehensive choice of finish options, suitable for high end residential hotels, commercial interiors and luxury yachts.
The company saw an appointment of a new CEO last year, Gary Stevens, but is now delighted to announce additional appointments and changes to its senior management structure. From July 1st, Gary will assume the role of managing director, with overall responsibility for creating and implementing Focus SB's planned expansion and five-year development plan at the company's East Sussex manufacturing facility. He takes over from Roger Kemp who will take up the role of chairman. Roger will still be actively involved with Focus SB, but will leave the day-to-day running of the company to Gary and the new senior management team.
Phillip Sumner is to join the board as a non-executive director, and will provide technical and product testing expertise and support. He has worked with Focus SB in this area for many years and the company is pleased to formally welcome him into the new team.
To support the anticipated expansion in sales and future product development, three new senior management roles have been created which are to be filled by existing members of staff.
Steve Moss is to be appointed sales and marketing manager. This role will oversee both internal and external sales functions (including export) and the company's overall marketing strategy.
Duncan Ray is to become supply chain and new product introduction manager, to implement a more organised and formal new product development process into the company.
Andrew Lanworn will be appointed as finance manager and company secretary.
Chris Turner continues in his role as general manager, with full responsibility for engineering, production and assembly.
Gary Stevens, MD, says: "I would like to congratulate the new senior management team on their appointments and I look forward to working with them in order to make the plan a reality and in turn see us grow significantly over the next five years. We have some significant opportunities open to us that will ensure that the company has a secure and prosperous future, we have some exciting times ahead of us!"
Roger Kemp, chairman, adds: "I have no doubt that the changes present some exciting new opportunities for people to develop within the business. I see it as the start of a new chapter in the development of Focus SB as a major electrical accessory manufacturer in the UK."