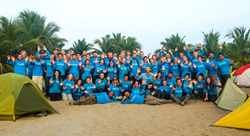 "The health and safety of our volunteers is absolutely paramount," said Tanya Glanville-Wallis, Director of PR & Communications for All Hands Volunteers.
Greensboro, NC & Seattle, WA (PRWEB) July 28, 2016
All Hands Volunteers, the world's leading disaster relief organization powered by volunteers, immediately rallied teams of volunteers and flew into Ecuador's zone of destruction. The non-profit organization addresses the immediate and long-term needs of communities impacted by natural disaster by engaging and leveraging volunteers, partner organizations and local communities.
All Hands were on the ground within 60 hours of the event and have been in the ManabÍ province ever since, demolishing unsafe structures, building temporary and permanent homes, and rebuilding hope for the some of the worst affected communities.
While both a humbling and transformative experience for all involved, it is easy to forget that volunteering in a disaster zone can also be precarious work. For, as is the case in Ecuador, not only is a volunteer entering an active seismic zone, but is also putting him or herself at risk of contracting mosquito-borne diseases that may be prevalent in the area.
"The health and safety of our volunteers is absolutely paramount," said Tanya Glanville-Wallis, Director of PR & Communications for All Hands Volunteers. "But other than the obvious tactics such as mosquito nets and insect repellent, it has been difficult to prevent outbreaks and we have been looking for a way in which to generate peace of mind as our volunteers perform this important recovery work."
Indeed, unlike Malaria for instance, for which preventative measures can be taken, there is no vaccine for diseases such as Zika and therefore prevention of mosquito bites is critical in an area where the virus is rife.
Enter Insect Shield®, an organization specializing in repellent technologies, who has partnered with All Hands in a bid to provide a much needed additional layer of protection. The Insect Shield process binds a proprietary permethrin formula tightly to fabric fibers—resulting in effective, odorless insect protection that lasts the expected lifetime of apparel. Proven to effectively protect from the day biting Aedes mosquito, transmitter of the Zika virus, this product has now been applied to the t-shirts worn by All Hands Volunteers in the field.
"This partnership is invaluable to our staff on the ground in Ecuador, our incoming volunteers and the local communities we are doing our best to assist," says Erik Dyson, All Hands' Executive Director and CEO. "By adding this extra layer of cover, our hope is to help prevent the spread of disease, therefore allowing us to continue our work uninterrupted and enabling us to continue to reach the communities that need us most."
About All Hands Volunteers:
Since its inception following the Indian Ocean earthquake and tsunami in 2004, All Hands Volunteers has responded to 66 disasters worldwide, engaging over 35,000 volunteers and donating 180,000 days; including Hurricanes Katrina and Sandy, Typhoon Haiyan in the Philippines and last year's devastating earthquakes in Nepal. Philanthropic leaders say the organization is known for being nimble, collaborative, and professional in its response to the immediate and long term needs of those suffering in the aftermath of a natural disaster.
More Information:
Support All Hands Volunteers' efforts in Ecuador by making a donation at http://www.hands.org/donate
For more about All Hands Volunteers, visit http://www.hands.org
About Insect Shield® Technology:
Insect Shield Repellent Apparel and Gear are revolutionary products designed to provide long-lasting, effective and convenient personal insect protection. The durable protection provided by Insect Shield is the result of years of research and testing. In July 2003, Insect Shield Repellent Apparel was registered by the United States Environmental Protection Agency. Insect Shield Technology is utilized by leading lifestyle brands, work wear distributors and International relief organizations across the globe to provide effective protection against insects and the diseases they can carry. Insect Shield is an approved vendor of the US Army and US Marine Corps. http://www.insectshield.com
Insect Shield Global Health & Humanitarian Efforts
http://www.insectshield.com/AboutUs/GlobalHealth.aspx
Where to buy Insect Shield protective clothing:
Insect Shield Online store
How to get your own clothes treated with Insect Shield® protection:
Insect Shield Your Own Clothes
###
CONTACTS:
Tanya Glanville-Wallis
Director of PR & Communications
All Hands Volunteers
tanya.gw(at)hands(dot)org | http://www.hands.org
US: 843-485-1917
France: +33 987-889-652
Janine Robertson
Marketing/PR
Insect Shield® Repellent Technology
janinerobertson(at)insectshield(dot)com
http://www.insectshield.com
Ph: 206 354-9093