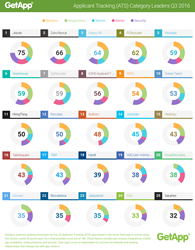 Jobvite took a commanding lead with an overall score of 75 that was helped by scores of 19 in security and application integrations
Barcelona, Spain (PRWEB) July 29, 2016
GetApp's released its Category Leader ranking for Q3 2016, featuring the top applicant tracking apps based in the cloud. Jobvite led the pack with a first place score of 75, followed by a close race for second and third place between runner-up Zoho Recruit and Breezy HR.
The ranking provides an overview of the top applicant tracking solutions, aimed at business owners on the search for software. Five different data points– mobile app availability, security, application integrations, user reviews, and media presence– are used to calculate the ranking. Each data point is worth 20 points and the highest score an app can attain is 100.
"Jobvite took a commanding lead with an overall score of 75 that was helped by scores of 19 in security and application integrations. Zoho Recruit came in second with high scores in media presence and integrations. Close behind in third place was Breezy HR, which had a perfect score in user reviews. The ranking also features two newcomers: SmartRecruiters and Jobscience, which came in 20th and 23rd, respectively, " says Suzie Blaszkiewicz, project manager of the Category Leader rankings.
See the entire Q3 2016 ranking of the top 25 applicant tracking solutions here.
More about GetApp: GetApp, a Gartner company, is the leading premium business app discovery platform on the web. Headquartered in Barcelona (Spain), GetApp serves as a platform for user-generated and editorial reviews of software and apps for businesses.
###