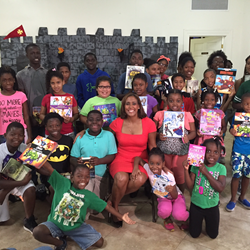 "It is a treasure, really, for kids -- to be able to give them the gift of literacy," said Brent McLaughlin, Executive Director of Branches, Inc.
Miami, Florida (PRWEB) July 29, 2016
Local 10 News and companies across South Florida raised thousands of books for children in need, and on Wednesday, July 20th, anchor Neki Mohan dropped off some of the books collected from the Big Book Drive at Branches, Inc.
The day started with dancing at the Branches Summer Shade Camp at the Trish and Dan Bell Family Branches Lakeview Campus located in Northwest Miami Dade. The summer camp students were eager to crack open the books, but Mohan decided to make them work a little for it. She first read them a story and then quizzed them on it. Of course, there was a reward for the best listeners, and then it was a free for all as everyone left with a book in hand.
The Big Book Drive is a component of Local 10's commitment to spread a positive message to South Florida youth. Low-income students lose more than two months in reading achievement over the summer. In middle-income neighborhoods, the ratio of books per child is 13 to one, while in low-income neighborhoods, the ratio is one book for every 300 children. Research also indicates the most successful way to improve the reading achievement of low-income children is to increase their access to print.
Branches is a local non-profit organization based in Miami and primarily focuses on student services and financial stability. Its Grow Program serves elementary students, preparing them for lifelong success through enrichment of their minds, bodies and hearts. The Climb Program serves middle and high school students, focusing on the development of their individual assets in order to maximize opportunities to become better students and better people. Branches' Achieve Programs target the well-being of the entire community through services fostering financial stability and long term success. Services include the ASSETS small business solutions program, the Ways to Work car loan program for working families, free VITA tax preparation and hunger relief. Branches is also proud to house and operate the United Way Center for Financial Stability (UWCFS).
"It is a treasure, really, for kids -- to be able to give them the gift of literacy," said Brent McLaughlin, Executive Director of Branches, Inc. "And that's one thing we focus on here at Branches, is to help the kids grow and develop, first with reading so they can succeed in school and then beyond in their lives."
About Branches
For over 40 years, Branches has made a positive impact in the community by delivering on its mission to serve, educate and inspire people through student, family and financial stability services. Branches provides long-term, holistic services for motivated individuals and families. We help people grow deeper and climb higher in life by building a foundation through education so they can achieve their goals and fulfill their potential. For additional information about Branches, please call 305.442.8306 or visit http://www.branchesfl.org.