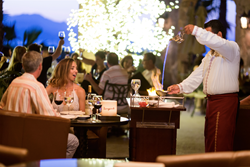 We're honored that Danzante Fine Dining has been recognized by such a distinguished program. We work hard to make all aspects of the resort exceptional for our guests. - Owen Perry, co-owner and president of Villa Group
Islands of Loreto, Baja California Sur, Mexico (PRWEB) July 29, 2016
Wine Spectator has recognized Villa del Palmar at the Islands of Loreto for its outstanding wine program in the publication's prestigious 2016 Restaurant Wine List Awards. Danzante Fine Dining, one of three restaurants at the resort, was recognized with one of the highest honors and a top destination for wine lovers.
"On behalf of Wine Spectator, I'm thrilled to congratulate each and every award-winning restaurant. They should be very proud," said Marvin R. Shanken, Wine Spectator's editor and publisher.
Wine Spectator began its program to recognize the world's best wine lists in 1981. There are three levels: The Award of Excellence, the Best of Award of Excellence and the Grand Award. Danzante Fine Dining, an upscale steakhouse and seafood restaurant at Villa del Palmar at the Islands of Loreto, won an Award of Excellence for its large selection of quality wines from around the globe including exciting choices from Baja.
"We're honored that Danzante Fine Dining has been recognized by such a distinguished program, said Owen Perry, co-owner and president of Villa Group. "At Villa del Palmar at the Islands of Loreto, we work hard to make all aspects of the resort exceptional for our guests. We want not one but all features and amenities of the resort to shine with the highest merit and this award is a reflection of those efforts."
The Award of Excellence recognizes restaurants whose wine lists feature a well-chosen assortment of quality producers along with a thematic match to the menu in both price and style. With an inventory of 400 bottles of wine, Danzante Fine Dining offers an impressive selection of 90 different wines at moderate prices that provide the perfect amount of flare and flavor when paired with the restaurant's fresh and authentic cuisine.
Oscar Torres, Danzante Fine Dining's sommelier of four years, looks locally to provide some of the best wines in the Baja region, as well as some of the finest wines from France, Italy, Chile, Argentina and the United States. The carefully selected wine list includes labels such as Santo Tomas, Monte Xanic, Vino de Piedra and Valle de Guadalupe. Torres is onsite daily to ensure guests have the most ideal pairing. Danzante Fine Dining is open Monday through Sunday from 6 to 10 p.m. and reservations are required.
This prestigious award comes on the heels of the resort's recent World Travel Awards recognition as Mexico and Central America's Leading Resort and Mexico's Leading Beach Resort.
Villa del Palmar at the Islands of Loreto is a destination resort located between the magnificent Sierra de la Giganta mountain range and the beautiful Sea of Cortez, off the eastern coast of the Baja peninsula. It features 181 beautifully appointed Deluxe Ocean View Suites ranging in size from one, two and three bedroom suites with balcony or terrace and stunning ocean or mountain views. Guests can enjoy three outstanding restaurants with local food, 1.8-miles of expansive and secluded beachfront, a 39,000-square-foot spa, world-class fishing, theme nights and more.
The resort also boasts an attentive English-speaking staff whose main focus is to provide unmatched hospitality and customer service to all who vacation to the beautiful Islands of Loreto. Their unparalleled customer service is what distinguishes the resort from others and what makes Villa del Palmar at the Islands of Loreto the 16th best resort in Mexico by TripAdvisor.
"We'd be happy to go back as the people in Loreto are amazing and it was a beautiful resort," said Kathy, a guest at Villa del Palmar at the Islands of Loreto. "I've never been somewhere where the staff was so nice and really going above and beyond to make your stay enjoyable!"
This November, the resort will unveil its new 7,400-yard Danzante Bay Golf Course, designed by Rees Jones, a world-renowned golf architect often referred to as the "The Open Doctor." The Danzante Bay Golf Course is a true rarity, featuring a mix of stunning views and luscious green holes, including the breathtaking Hole 17, which Jones has praised as one of the best in the world.
For resort reservations or additional information, please contact the resort at reservaciones.vdpl@vgloreto.com or call 800.790.4187. To learn more about Villa del Palmar, contact your preferred travel professional, visit http://www.villadelpalmarloreto.com or call the number above.
About Wine Spectator
Wine Spectator is the world's leading authority of wine. Anchored by Wine Spectator magazine, a print publication that reaches more than 3 million readers worldwide, the brand also encompasses the Web's most comprehensive wine site (WineSpectator.com), mobile platforms and a series of signature events. Wine Spectator examines the world of wine form the vineyard to the table, exploring wine's role in contemporary culture and delivering expert reviews of more than 18,000 wines each year. Parent company M. Shanken Comm., Inc. also publishes Cigar Aficionado, Whiskey Advocate, Market Watch, Shanken News Daily, and Shanken's Impact Newsletter.
About Villa del Palmar at the Islands of Loreto: Baja's First Million Star Resort
Villa del Palmar at The Islands of Loreto is a luxury destination resort on the Sea of Cortez, off the eastern coast of the Baja peninsula overlooking Danzante Island (one of five in the region). Flanked by the rugged Sierra de la Giganta range, the Villa del Palmar is the first and only resort to occupy one of the Gulf of California's last virgin coastlines. The resort features 181 new, spacious, beautifully appointed Deluxe Ocean View, one, two and three bedroom Suites with terraces and stunning ocean and mountain views, three restaurants offering gourmet dining, an attentive English-speaking staff, five swimming pools, a 39,000 square-foot Sábila Spa and Wellness Center, two tennis courts, beautiful beaches, a private beachfront Danzante Bungalow and a mild and warm climate year-round. The 7,400-yard Rees Jones-designed Danzante Bay golf course will offer a challenging, yet friendly course that works with the natural beauty and serenity of the surrounding environment.
Guests can enjoy PADI-certified SCUBA diving lessons and snorkeling tours in the protected indigo waters that explorer Jacques Cousteau once dubbed the "Aquarium of the World." Outdoor adventurers can also experience tours of the nearby Coronado, Danzante and Del Carmen Islands atop an inflatable APEX boat, as well as swimming, world-class fishing aboard the "Mad Dash" tournament boat, paddle boarding, kayaking, whale watching and mountain biking. With shuttle service priced at $5 per person round trip, guests can explore the historic town at the Islands of Loreto and visit the 1697 mission that made the town famous. The area is also known for its wildlife, including the 900 species of fish off the coast and in an area that has been designated a UNESCO World Heritage Site and the second largest National Marine Park. Hotel perks include a spa and fitness center, massages, salsa dance lessons and movie nights for children. Travelers can take a short flight from LAX on Alaska Airlines or from Calgary, Canada aboard WestJet, Canada's most-preferred airline, to the Islands of Loreto.
The resort is also currently named the 16th best resort in Mexico by Trip Advisor. In 2015, Travel Weekly magazine recognized the Islands of Loreto with a 2015 Silver Magellan Award in the Adventure Destination category. Villa del Palmar at the Islands of Loreto was also recognized as Mexico's Leading Beach Resort in the 22nd annual World Travel Awards.
For additional information on events, amenities, or availability call 800.790.4187 or visit http://www.villadelpalmarloreto.com. Stay up-to-date on the latest happenings by finding us on Facebook (https://www.facebook.com/villadelpalmarattheislandsofloreto/) or Instagram, Pinterest and Twitter as @VilladelPalmarL.
###