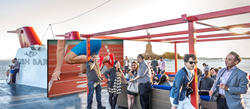 New York, NY (PRWEB) July 28, 2016
New York Cruise Line's newest dining and entertainment destination, North River Landing, home to the famed floating lobster shack North River Lobster Company, and newly opened floating lounge, Fish Bar, will be transformed this August into the North River Viewing Village, located at Pier 81 on West 41st Street on the Hudson River. Beginning with the Opening Ceremonies on August 5th, through the Closing Ceremony on August 21st, North River Landing will be the destination for New Yorkers to cheer on the United States teams as they compete for gold this August. Fish Bar and the barge at North River Lobster Company will be outfitted with multiple TV screens for an optimal viewing experience and will include food and beverage specials, and numerous sailings throughout the day and night.
Fish Bar, a 160 foot yacht with a 3,000 square-foot outdoor top deck, will house the "Grand Stand" of viewing with a 14-by-8 foot outdoor video wall, showcasing the official broadcast live from NBC. This one-of-kind experience will allow guests to watch the athletes compete on screen, as they sail the New York Harbor, drink in hand with the Statue of Liberty as their backdrop. The barge at North River Lobster Company, equipped with 8 high definition screens, will be the perfect place to watch the games prior to sailing on North River Lobster Company.
While watching and sailing on Fish Bar, guests can enjoy sharable Mediterranean inspired small plates and farm-to-cocktail specials. In homage to the original Olympic Games, guests will sip on the Summer in Greece Cocktail, a mix of Bacardi Rum, Grapes, Strawberry, and Fresh mint, or the Aphrodite Treat, made of Roca Patron Tequila, Cointreau, Pomegranate, Cranberry, Agave, and Lime.
"What better way to watch our athletes compete for gold in Rio then by watching on a 14 foot video wall under the Statue of Liberty?" said Danny Boockvar, CEO of New York Cruise Lines, Inc. "Whether you are rooting for your hometown heroes or athletes from around the globe, North River Landing is the most exciting place in the city to eat, drink, sail and cheer this summer."
For more information, please visit: http://northriverfishbar.com/goteam/
###
ABOUT NEW YORK CRUISE LINES
New York Cruise Lines is the parent company of the iconic Circle Line Sightseeing Cruises, and other industry leading travel, hospitality and restaurant businesses. Circle Line, a fixture in global tourism, has hosted more than 60 million passengers since 1945 and is recognized as "America's Favorite Boat Ride", world- famous for sightseeing and special events including concerts and entertainment. New York Cruise Lines also owns and operates unique floating restaurants at Pier 81's North River Landing, including North River Lobster Company, an award winning casual lobster shack, as well as the brand new Fish Bar at North River Landing, a waterfront seafood lounge and restaurant with an expansive outdoor top deck and lively bar scene. New York Cruise Lines also operates World Yacht, a luxury special events and private charter business, as well as The BEAST Speedboat summer time thrill ride. The company is located in Hudson River Park on 42nd Street and the Hudson River, convenient to Times Square, the High Line and Hudson Yards.
•Circle Line: Winner of Concierge Choice Award (CCA) for "Best Sightseeing Tours" in NYC (2015)
•North River Lobster Company: Winner of North American Journeys' "Coolest New Product of 2015"
North River Lobster Company (http://www.northriverlobsterco.com)
Fish Bar at North River Landing (http://www.northriverfishbar.com)
North River Landing (http://www.northriverlanding.nyc)
Circle Live Concert Series (http://www.circlelivenyc.com)
Circle Line Sightseeing Cruises (http://www.circleline42.com)
World Yacht Special Event Cruises (http://www.worldyacht.com)