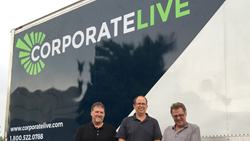 Our name change is long overdue. Just as technology has advanced well beyond the analog sound equipment we used to have, so Corporate Live has gone way past our roots of providing just sound equipment at events -- Paul Winkler, President
Grand Rapids, Michigan (PRWEB) August 01, 2016
Corporate Sound in Grand Rapids has changed its name to Corporate Live and launched a rebranding program to emphasize its deep toolbox of audio, video, lighting and rigging resources to create memorable events for corporations, universities and nonprofit organizations.
Known best as the equipment backbone for events such as the Frederik Meijer Gardens Concert Series and annual Economic Club of Grand Rapids gala, Corporate Live has forged a new logo, changed signage on its trucks and office/warehouse at 4720 44th Street SE, and launched a new website that captures the excitement of its business. The new website takes visitors on a virtual trip to a Corporate Live event with an interactive 360-degree look at the crowd and festivities of Wolverine World Wide Spring/Summer 2017 Global Conference.
"Our name change is long overdue," said Paul Winkler, company president who founded Corporate Sound in 1996 with entrepreneur Matthew Simms, with brother David Winkler joining the company a year later. "Just as technology has advanced well beyond the analog sound equipment we used to have, so Corporate Live has gone way past our roots of providing just sound equipment at events.
"We have assembled a team of engineers, managers and sales staff who are also experts in video, lighting and rigging, so we can design and deliver live events that truly engage audiences and enhance the prestige of our clients."
Corporate Live is a leading provider of live event production and design services in West Michigan, offering turnkey events throughout the Midwest and has provided support for corporate customers nationally ranging across the country from Washington state to New York.
"Regardless of size of the event or its location, we strive to hit our Three Cs for our clients: Create, Communicate and Captivate," Winkler said. "It's our formula of success. Some other companies have tried to copy it, but our Three Cs depend on just the right combination of people, equipment and organization to really work."
With the Create aspect of a project, Corporate Live taps in-house talent and an established network of creatives to develop concepts and visuals for an event, always with the goal of defining a sense of space that excites. Some tools used by Corporate Live engineers and managers include Vectorworks, Smaart Acoustical and a virtual modeling program that does 3-D renderings of rooms for precise space planning.
As it moves to the Communicate stage of a project, the company selects the best packages of equipment and personnel to suit the application -- from an intimate room-sized gathering to events that draw audiences of more than 100,000 people. Corporate Live has invested in top-notch equipment such as a JBL VTX V20 Line Array, LED moving fixtures, multi-camera setups that provide video for relay to large screens, and state-of-the-art rigging and automation components to literally make its customers' ideas soar. The company has extensive experience in rigging to provide the safest and most reliable means of lifting or flying individuals and props.
The Captivate stage of the project comes at show time, when people and equipment all mesh seamlessly to build anticipation for what is to come, then deliver a spectacular event. Corporate Live can even take the action well beyond the immediate venue.
For more information on Corporate Live, access the website at http://www.corporatelive.com