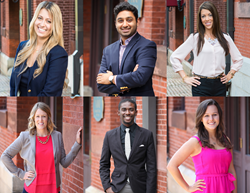 I'm extremely excited about the team we have put together. We've built an impressive client portfolio and plan to continue to grow our firm.
Baltimore, MD (PRWEB) July 28, 2016
Driven by a growing client base and the opportunity to scale for growth amid the fast-changing communications landscape, Abel Communications today announced several new promotions and hires.
-New Promotions-
Gina Gerber, a key employee of the firm since 2010, has been promoted from Vice President to Senior Vice President, where she will support overall agency growth with a focus on strategy, business development, and expansion of agency services. As President of the Baltimore Public Relations Council, Gina has distinguished herself as a leader in the profession and community, and will now manage Abel's growing team of account managers.
Amanda Ratner, also a long-time Abel employee, has been promoted to Account Manager from Senior Account Executive. In her new role, Amanda will lead a group of financial services accounts, where she has distinguished herself through outstanding writing, media relations, and strategic counsel.
"Gina has proven herself to be a tremendous leader and strategist and I'm excited to give her this opportunity to help me run and grow the firm," said Greg Abel, President and Founder of Abel Communications. "Amanda has also earned this exciting new step in her career – to emerge as an account leader who can be relied upon to deliver impactful results."
-New Talent-
In the last six months, Abel Communications has hired three new employees, most recently Madeline Caldwell and Amrit Nijjer, both in the role of Account Manager. Madeline joined Abel in July after a year as PR Manager at Sheppard Pratt Health System; which followed five years in PR roles of increasing responsibility at a leading Baltimore advertising agency. At Abel, Madeline will focus on health and wellness accounts, where she has a wealth of prior experience.
In May, Amrit Nijjer joined the Abel team from London headquartered PR firm Citigate Dewe Rogerson, where as an account manager he provided communications counsel to national and international technology, B2B and personal finance clients. Amrit's international agency experience and technology background will help Abel expand its reach into this growing sector.
"Both Madeline and Amrit are extremely talented in their own, unique ways, and will help this firm grow by delivering outstanding results and new ideas," Abel added. "Both are stars. Madeline has been leading high-profile PR campaigns for the last several years and hit the ground running; Amrit brought a global view to our firm and has already added a jolt of energy and creativity to the team."
Earlier this year, Abel Communications also expanded its creative services capabilities with the hiring of Chelsea Clough, an award-winning multi-media content creator with expertise in photography and video production.
"I'm extremely excited about my new role and the team we have put together," said Gerber. "We've built an impressive client portfolio and plan to continue to grow our firm using our proven formula of creative ideas, consistent results, and ability to connect our clients to the right audiences."
Abel has also continued its successful 'Associate Program,' bringing in two recent college graduates to begin their PR careers. The three-month, paid program provides real-world experience as associates contribute actively to client work under the supervision of account managers. The firm's most recent associates are Megan Fox and Alexander Boykin, 2016 graduates of Towson University and Morgan State University, respectively.
As the company has grown, Abel Communications has maintained a culture centered on results, education and work-life balance. Employees enjoy perks such as free yoga classes, gym membership, flexible working schedule, regular lunch 'n learns with noted experts, and a pet-friendly office. The agency also stays close to its Baltimore roots by closing on Opening Day of the MLB season; and celebrates milestones large and small with regular outings to restaurants and establishments in its neighborhood of Hampden and beyond.
Abel Communications' clients include UnitedHealthcare, Medifast, STX, MRIS, 1st Mariner, Force 3, and CohnReznick.
About Abel Communications
Abel Communications is a results-driven public relations firm specializing in campaigns to support clients in professional services, health and wellness, and non-profits. We offer a range of services including comprehensive communications planning, media relations, photo and video, social media and strategic content development. For more information, visit http://www.abelcommunications.com