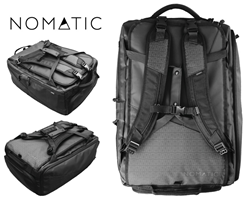 We're solving common travel problems with our Nomatic innovation and it's great to see that consumers are rushing in to support our idea.
Salt Lake City, Utah (PRWEB) July 29, 2016
The Nomatic travel bag has become a favorite of travelers around the world. Just over a week since launching on Kickstarter, Nomatic has shattered its original $20,00 goal by 25 times and has reached the exclusive half-million mark with more than a month remaining in the campaign.
After back to back successful Kickstarter campaigns with popular wallet and notebook products that raised nearly $600,000, founders Jacob Durham and Jon Richards quickly discovered their travel bag would surpass their previous successes.
"We are ecstatic and humbled to see how quickly thousands of travelers have embraced our 20-feature travel bag," Durham said. "We're solving common travel problems with our Nomatic innovation and it's great to see that consumers are rushing in to support our idea."
In creating the Nomatic Travel Bag, the Durham/Richards team combined the best elements of a backpack, duffel bag and carry-on luggage to create "the world's most functional travel bag."
The Nomatic Travel Bag has 20 features, ranging from multiple compartments designed to carry laptops, notebooks and water bottles, to sections that will keep shoes and soiled garments separated from clean clothes.
Additional features include:

An airport security-friendly padded and secure laptop pocket designed so security screeners have a clear and unobstructed view, allowing travelers to keep computers in the laptop pocket during security screenings.
A padded tablet pocket inside the main compartment door that keeps it easily accessible and safe, featuring a Velcro-flap designed with a slot to allow charging on-the-go with a power bank while keeping it secure.
A notebook pocket sized to hold a Basics Notebook or any other book of a similar size (about 5.5" x 8.75").
A special pocket for a water bottle at the top of the bag, lined with water-proof material to make it easier for travelers to stay hydrated during trips and also assure that other items stay dry in case of a leak.
A radio frequency identification (RFID) pocket with a TSA-approved lock that keeps scan-able items safe from RFID scanners and valuables safe from pickpockets, unscrupulous room service personnel and other potential threats
A separate laundry bag, designed to hang on a door knob so travelers can easily toss clothes in, that is then simply zipped up to fit perfectly in the main bag compartment on the way home to keep dirty clothes separate and more organized.
An innovative vacuum bag that allows travelers to pack more clothes in half the space.
A shoe compartment that can easily fit up to two pairs of Size-12 shoes.
A miscellaneous compartment that can be used to store socks, underwear, or even a light jacket for easy access if travelers get cold during their journey.
A soft, fleece-lined valuables pocket on the top side of the bag for storing a phone, sunglasses and other valuables.
A combination of mesh, fleece-lined, and zipper pockets for storing power cords, power banks, laptop chargers and any other items.
A unique strap system allows travelers to wear the bag in a backpack or duffel bag position without dangling straps.
A comfortable handle to make carrying the bag by hand easy and less painful.
An adjustable sternum strap to make it more comfortable when used in its back-pack configuration.
While the team designed the Nomatic Travel Bag for people wanting only a single, carry-on bag for trips of up to seven days that would also meet all airline carry-on size requirements, it also has a roller-bag handle sleeve so travelers can place it upon other luggage and effortlessly roll both bags together on longer trips.
The Nomatic Travel Bag is available at reduced prices until September 1. To pre-order visit Kickstarter.
About Nomatic
Originally named BASICS when founded in 2014 by cousins Jacob Durham and Jon Richards, the company launched its first project on the crowdfunding website Kickstarter – the BASICS wallet. After raising $171,000 for the product, the pair quit their day jobs and focused on developing travel- and work-related products with innovative designs and functionality. The BASICS wallet was followed by the BASICS Notebook, which raised nearly $400,000 in crowdfunding on Kickstarter. The company, based in Salt Lake City, changed its name to Nomatic to be more reflective of the range of products it produces for the consumer market. For more information about the company's range of products, visit http://www.nomatic.com.