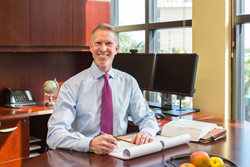 I feel that it's my duty to stand up for those who have been wronged in court.
MIAMI (PRWEB) August 02, 2016
It's that time of year again. The 2016 Super Lawyer list has been officially rolled out, and once again, Miami consumer protection Lawyer Dillon Graham has earned a spot.
This marks the sixth consecutive year that Graham has been named a Super Lawyer in the state of Florida, having earned his first title in 2011. Each year, Graham was chosen by his peers to receive the sought-after distinction. Upon learning of the announcement, Graham said he cherishes each title as much as the first.
"I'm so honored and humbled to be named a Super Lawyer for the sixth time," Graham said. "Getting that news never loses its thrill."
Earning Super Lawyer status is no easy feat. Only 5 percent of the lawyers in each state are awarded the prestigious honor. The selection process has four steps. First, attorneys in every state nominate peers which they believe represent the top lawyers in the state in which they practice. Each nomination is afforded a point value, which guides the Super Lawyers research staff responsible for vetting the prospective awardees. During the third step, each nominee is evaluated by peers in his or her practice area, receiving a rating from one to five. Finally, nominees are grouped by state, then by the size of his or her firm, with the attorneys who garnered the highest number of points earning a spot on the final list.
"Having worked so closely with Dillon, his being awarded Super Lawyer status has never once surprised me," Graham Legal Associate Attorney Marilyn Byrd said. "It's not hard to see that his commitment to seeking justice for clients is beyond that of most."
With the Super Lawyer distinction comes features in the 2016 Miami Super Lawyers Magazine, Miami Herald Super Lawyers Special Supplement, and el Nuevo Herald newspaper (Spanish edition of the publication). Graham said the true honor isn't in the recognition itself, but in working with clients and peers who have made receiving the honor possible.
"I feel that it's my duty to stand up for those who have been wronged in court," Graham said. "I'm so appreciative that simply performing that duty has earned me this title year after year. My clients, they make it easy to go the extra mile."
About Dillon Graham
With more than 30 years of legal experience, Dillon Graham is the founder and managing attorney of Graham Legal, P.A., located in Miami, Florida. Assisting clients through some of life's hardships is Graham's true passion. As a consumer protection lawyer, he helps clients find legal alternatives to foreclosure and other legal matters, and when it is inevitable, he assists them in navigating through complex legal proceedings. Graham Legal is equipped and prepared to effectively and successfully fight against unreasonable lenders and others who pose a threat to clients. Graham is admitted to practice before the U.S. Supreme Court, the U.S. Court of Appeals, local U.S. District Courts, and in all Florida state courts.