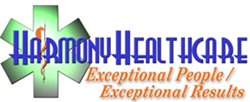 We are so proud to be recognized by the business community in Tampa Bay
TAMPA BAY, FLORIDA (PRWEB) August 01, 2016
Harmony Healthcare's remarkable revenue growth has again earned the company a top spot on the Fast 50 list from the Tampa Bay Business Journal (TBBJ) for 2016. Harmony is proud to make second place on the list of highly competitive Tampa Bay area companies. This is the second consecutive year that the company has ranked in the top three on the list.
The TBBJ ranked companies by their percentage growth of revenue from 2013-2015. Harmony Healthcare touts a revenue growth of nearly 422 percent during the three year time period, starting at $7.32 million and growing to over $38.18 million dollars in 2015.
"We are so proud to be recognized by the business community in Tampa Bay," said CEO Christopher Brown. Tampa Bay has a great work ethic, reasonable cost of living and very reasonable costs associated with doing business."
Brown founded Harmony Healthcare in 2010, after recognizing that the switch from paper to digital medical records would revolutionize the way hospitals and other healthcare facilities gather and code patient information, communicate with insurance companies and collect revenue in a timely manner. The complexity and constant changes in healthcare systems can be challenging, but Harmony provides expert advice to help clients find the best possible solutions to their revenue cycle concerns.
Harmony Healthcare provides interim staffing, project management, outsourcing/off-shoring and direct-to-hire services for clients. The company's experts are highly trained, can spot problems and lead a client facility through the best processes, procedures and solutions. The company specializes in providing professionals in Revenue Cycle, Health Information Management, and Clinical Documentation Improvement for client facilities.
With a large scope of expertise under the Harmony Healthcare umbrella, the company is able to provide support in areas including clinical documentation improvement, coding, auditing, and government compliance at Veterans Administration hospitals and U.S. military bases.
"Healthcare revenue cycle outsourcing and staffing continues to be both exciting and challenging. There are so many mandates and variables that are overwhelming our nation's hospitals, insurance companies and consulting firms, but we expertly guide our clients to the best solutions. It's an honor to be recognized for our work within this promising field."
Along with its award-winning revenue growth and an increasing number of employees, Harmony Healthcare also boasts an impressive 97 percent client satisfaction rating via the Dunn and Bradstreet Client Satisfaction Survey. This satisfaction can be attributed to the high standards and dedicated work by Harmony employees.
His employees, he notes, were hired based on the principles of character, dedication, work ethic and discipline, as taught by well-known and loved UCLA basketball coach John Wooden. Harmony employees have a low turnover rate which can be accredited to Brown's belief in these core company principles, as well as a healthy rewards system that includes great pay and benefits such as ongoing training, 24/7 support staff, a personal career agent and much more.
Brown's career is also highlighted by many other successful business ventures. Brown founded and led an accounting, finance, IT and human resources contract and placement services company known as Burlington Wells, Inc., until 2000 when it was sold to Monster.com/TMP Worldwide. He began and led a Health Information Management contract and placement company called Insights Search, until its acquisition by On Assignment in 2006.
As a member of the Spartan Staffing board of directors from 1999-2004, Brown was recruited to help develop the internal structures and culture in preparation for the sale of the company. Further, Brown is an accomplished writer on the subject of recruiting and staffing. His 2001 book, "Insights, A guide to Successful Recruitment Strategies and Training" is a comprehensive guide to recruitment, staffing and human resources training.