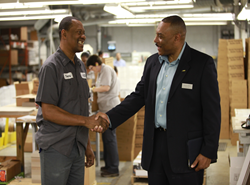 "The successful pursuit of these outcomes has always yielded fruit beyond my expectation." said Dawn Brinson, Founder and CEO of Brinson Benefits
Plano, Texas (PRWEB) July 30, 2016
With a May Gallup.com Survey.com showing that only 13% of American employees are engaged in their jobs, one leading Texas-based benefits provider has seen the advantage of using the nation's largest and original workplace chaplaincy organization, Marketplace Chaplains, for their employees and clients.
"A couple of outcomes we consistently help employers achieve are in the areas of employee engagement and wellness. The successful pursuit of these outcomes has always yielded fruit beyond my expectation," said Dawn Brinson, Founder and CEO of Brinson Benefits
The Gallup.com survey written about by Gallup Global Practice leader Ed O'Boyle in a Gallup blog1 details that the remaining employees are either not engaged, indifferent or even potentially engaged toward their organizations.
The rapid growth of the confidential, voluntary, non-denominational chaplain service in thousands of work locations in the U.S. and internationally has attracted the attention of employees and business leaders.
"We have the unique privilege of helping companies in many different ways. One way we help achieve engagement and wellness among our clients' employees is through chaplaincy," Brinson added. "An assigned Chap, besides providing a trained, listening and supportive ear, sends the clear message to an employer's staff that their employer cares for more than just production."
"Just the existence of the Chaplain Care Team helps to set the tone for the level of integrity and morals expected from its employees," said one employee from national builder David Weekley Homes.
"Our team of chaplains has helped team members with many personal hurts from the death of loved ones to bankruptcies and eviction. Our chaplains have made home and hospital visits, late night phone calls, and officiated at family memorial services," said one business leader with uses Marketplace Chaplains. "The chaplains at Curtis are integral to our culture and they are very much appreciated. The Chaplain Service is an essential piece of our Wellness Program."
After three years of triple figure company growth, Marketplace Chaplains has already outpaced its total growth for all of 2016 in the first seven months of 2017 as companies leaders seek to find a solution for the companywide problems of employee engagement and absenteeism where employees are physically at the workplace, but not emotionally engaged.
"These visionary business leaders are seeing in ever increasingly numbers the need to truly connect with employees in the workplace and that is through a trained, caring and confidential workplace chaplain," said Marketplace Chaplains Executive President and CEO Doug Fagerstrom.
Marketplace Chaplains currently serves more than 600,000 company employees and their family members in 46 states, 9 provinces, 1,166 cities and 6 international countries and 1 commonwealth.
For more information on this unique employee benefit which has been featured in Marketplace Chaplains on CNN, NBC Nightly News, and in the Washington Post, the New York Times and Bloomberg BusinessWeek, visit http://www.mchapusa.com.
About Marketplace Chaplains
To arrange an interview with a Marketplace Chaplain contact Art Stricklin, Vice President Public Relations, at artstricklin(at)mchapusa(dot)com or call 1-800-775-7657
References:
1 http://www.gallup.com/opinion/gallup/191765/organizations-going-above-beyond-engage-employees.aspx