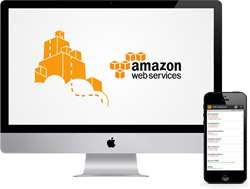 We've invested heavily in bringing our partners onto the AWS to ensure the best in speed, performance, and reliability.
Austin, Texas (PRWEB) August 01, 2016
Today, deverus, a top SAAS provider to leading background screening companies announces that it has fully migrated to Amazon Web Services, AWS.
Trusted by a host of FORTUNE 500 companies, deverus now joins this growing list who made the choice to take reliability, security, performance and scalability to the next level by migrating to Amazon Web Services. These companies include: Kelloggs, Siemens, Comcast, GE, Tesla, NASA, Chase, Dow Jones, Exxon, JPL, Netflix, Expedia, and many more.
"We are excited to bring the most secure, stable, and scalable solutions to our growing partners. The fact that so many Fortune 500 companies are now betting on AWS, proves it is the right choice for deverus' future," observed Shawn Rucks, CEO, deverus. "And since the new move, we have already witnessed a dramatic increase in performance and reliability. The shift to AWS allows us to help our partners compete with the best background check companies in terms of the crucial performance, security, and reliability standards hiring managers care about."
There are many advantages to deverus' switch to the ultra-secure Amazon Web Services platform. deverus outlined the top 4 today:
1. Performance: AWS allows deverus to increase platform speed by running clusters of CPU servers on demand. This enhanced speed allows our partners to scale out across hundreds of processors when the need arises.
2. Scalability: Amazon Machine Images (AMIs) allows deverus to spin-up systems in multiple regions for different environments within minutes. This streamlined system eliminates the need to repeat initial set-up steps, and eliminates the need to purchase new servers down the road to meet demand. What once took days, now takes minutes!
3. Reliability: deverus is so confident of AWS stability that it is committed to an impressive uptime level of 99.95%.
4. Security: AWS uses network devices, including firewall and other boundary devices, to monitor and control communications at the external boundary of the network, and at key internal boundaries within the network. These boundary devices employ rule sets and access control lists (ACL) and configurations to enforce the flow of information to specific information system services.
About:
deverus was established in 1998 to disrupt America's background screening industry with leading edge scalable, SAAS solutions for background check companies. The company has been named a Best Place to Work by Austin Business Journal. deverus is a founding member of the National Association of Professional Background Screeners, NAPBS. The company is trusted by leading background check companies who serve the Fortune 500, and sets new standards of excellence in cutting edge technology, uptime, and outstanding customer support.