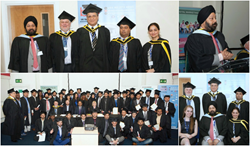 UK Versity Online now offers the full range of London School of Marketing courses including an array of bachelors and master degree programme
London, England (PRWEB UK) 29 July 2016
London School of Marketing (LSM), offering accredited marketing and business qualifications in the heart of London, has celebrated a significant milestone in the global delivery of its Recognised International Business Development Partner (RIBD) programme. The leading educational institution celebrated the first graduation ceremony by its RIBD partner UK Versity Online on the 7th of July at the St. Thomas Centre, Ardwick. The ceremony recognised nearly 117 graduates who completed their BA and MA degree programmes, awarded by Anglia Ruskin University.
Established in 2014, UK Versity Online started operations as a private provider of higher education courses to international students. Coupled with rapid uptake of distance learning courses and expansion, UK Versity now offers over 150 qualifications to learners and professionals globally.
UK Versity enrolled just over 150 learners in 2015-2016 session. In the past academic year, through the partnership with LSM, UK Versity Online was able to provide students with accredited British Masters and Bachelors programmes from the prestigious Anglia Ruskin University and the University of Northampton via distance learning. As a result, some 25 learners have successfully completed and achieved the degree qualifications.
Anton Dominique, Chief Marketing Officer at London School of Marketing, shares his views about the partnership. He comments: "We are extremely pleased to partner with UK Versity Online to expand and enhance our reach in North West, England. UK Versity Online now offers the full range of London School of Marketing courses including an array of bachelors and master degree programmes. They have already enrolled more than 50 students with us."
Our association with the London School of Marketing provides a seamless pathway for our learners to progress to a Bachelors and Master's degree top-up programme with affiliated universities. The London School of Marketing portfolio of courses allows UK Versity Online to complete its offering and as a result, we are able to offer the best of diploma and degree programmes to our learners. Mr. Singh further added that the partnership creates tremendous value and gives the learners the flexibility and affordability to pursue degree qualifications under the enhanced partnership umbrella, Mr. Ramanjeet Singh, Principal & Director at UK Versity Online.
About London School of Marketing:
London School of Marketing delivers accredited marketing and business qualifications, and offers professional courses from recognised professional bodies such as CIM, EduQual and academic qualifications on Marketing, Business, Finance, Law and HRM from Anglia Ruskin University and The University of Northampton. Based in Central London, they are a QAA approved institution. The school also has offices in Sri Lanka, a network of Local Access Points (LAPs), and online programmes of learning.
About UK Versity Online:
UK Versity was established in 2014 to cater to diverse needs of learners and professional globally and to provide lifelong learning. UK Versity Online now offers 150+ different Ofqual accredited academic and vocational qualifications from QCF level 3-7. As a centre UK Versity Online has accreditation from ATHE, Digital Marketing Institute, Learning Resource Network, NCFE and OTHM. The diverse range of courses offered include specialisms like Business, Computing, Finance, Health & Social Care, Logistics, HRM, Management, Marketing and Teaching. For more information, please visit our website at http://www.ukversity.co.uk