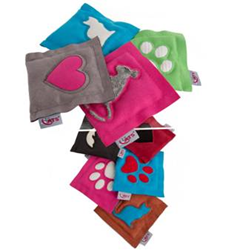 The catnip toys that will turn your cat into a playful house tiger
London, UK (PRWEB UK) 29 July 2016
4Cats Heimtierbedarf GmbH A Cat toy Company with history will be present at PATS Telford on the 25th and 26th of September to launch their Cat toys and other products to the UK market
4Cats are a family run business that specialises in high quality valerian and catnip toys. For the catnip toys they use a special formula of catnip that is their own creation and they call it 4catsnip. Through long testing and trialling they found that this particular mixture works especially well even for cats that usually don't react to catnip at all! While they won't disclose their special recipe they can certainly confirm that it is 100% organic and high quality catnip.
All of their cat toys are made in Germany in their own premises in Stolberg by Aachen. They only use high quality ingredients and material and all toys undergo the highest quality assurance to ensure that customers are satisfied and their cats will have long lasting fun and entertainment with them.
Idea, design, prototyping, programming of the lasers and the sewing machines are equally made by them, like sewing, filling and packing.
The fleece used in their toys is OEKO TEX 100 certified, the wadding inside is also OEKO Tex 100 certified, and this also applies to the yarn that they use for the stitching.
The shapes are cut with a CO² Laser to ensure precision for each one of their designs.
What's even better any of the toys that have minor issues such as wonky stitching or colour variances are used by them to support cat charities in both Germany and UK by providing these to charitable organisations free of charge! It is their belief that every cat deserves a home and while they are waiting for their forever place why not help them pass the waiting time with one of our fantastic toys.
Additionally they recently signed an agreement with EezyEat4Pets to become the exclusive worldwide distribution partner of their latest generation of Elizabethan collars the "Pet Airs"which thanks to a unique design make it simple and easy for pets to continue to eat while preventing them from messing with wounds!
The brand new Pet Airs version is a unique design that will be shown for the first time in the UK at the PATS Telford on the 25th and 26th of September 2016 .
In the UK the 4Cats company is being supported by Katzenworld and their Director Marc-Andre Runcie-Unger to help cater for the local market. For high res images please do get in touch with Marc.
4CatsHistory:
So how did it all start? Many years ago the mother of the current head of the company, Markus Friedrich, wanted to support their local cat rescue and started stitching little pillows with valerian filling for cats, these made it into three local pet shops and were sold as a "good cause" to raise money for charity.
As time went by Markus Friedrich realised that cat toys could be something better and more important than the usual little extra on a trip to the pet shop or as in the case of his mother a way of raising money for charity! And this was how he together with his partner Marion Hamacher came up with the idea to produce cat toys in ever increasing quantities. In Germany alone some of the leading large pet retail chains now stock the 4Cats toys but it doesn't just stop there, they even export to Japan, Taiwan, Turkey and of course now also the UK!
Their executive team now consists of Marion Hamacher, Markus Friedrich and Jörg Frank. (See attached photo)
Their representative for this years PATS show, Jörg Frank, will be looking forward to meeting interested parties and discuss their requirements at the show.