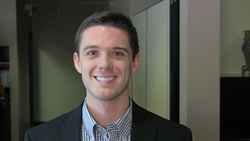 Chase is certified in Social Media Marketing for Healthcare by the Mayo Clinic and Hootsuite.
(PRWEB) August 02, 2016
Medical Consulting Group (MCG) hires Digital Marketing Manager Chase Rabourn to work alongside its creative team as the company seeks to expand its digital marketing services.
"Digital marketing involves using a wide range of media tools to spread the word about a business, develop genuine relationships with customers, and propel press, quickly and more economically," says MCG managing principal and consultant Bill Rabourn. "The number of people accessing the web through mobile devices continues to rise, making the use of tools like social media critical to business success. This is not new terrain for the MCG creative team, but as our ideas and ambitions about our digital marketing services have grown, it only made sense that our team should too."
Chase is certified in Social Media Marketing for Healthcare by the Mayo Clinic and Hootsuite. He is a graduate of the University of Missouri in Columbia, Missouri, where he earned a Bachelor of Arts in Communication with an emphasis in Mass Media. Chase now manages digital and social media marketing at MCG. He is also involved in copywriting and proofreading for the creative department.
"I really enjoy the challenge and opportunities that digital marketing presents," Chase says, "and I especially enjoy working with a creative team who truly understands the value it holds for the practices they work with. Practices' patients want brands they can trust. They want to feel understood and they want the opportunity to participate in genuine, personalized conversations. I think it's great that Medical Consulting Group is ramping up its digital marketing services to help practices meet that need."
Medical Consulting Group
The medical business solutions provided by Medical Consulting Group include ASC and practice consulting, management, development, and revenue cycle management, as well as multi-media marketing and advertising campaign creation. These services are the product of more than 27 years of immersion in the ophthalmic and healthcare business industry.
Learn more about Medical Consulting Group at medcgroup.com or call 417-889-2040 to speak to a consultant.