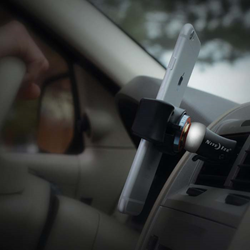 Since the first Steelie product introduction, I have envisioned an entire ecosystem of Steelie products. There is so much you can do with the Steelie concept and we're excited to continue growing the family...
BOULDER, Colo. (PRWEB) August 03, 2016
In 2014 Nite Ize® introduced the Steelie® ecosystem – the world's finest mobile device holding system. Today, the well-known manufacturer of consumer electronics accessories announces several new product additions to the Steelie family including the FreeMount™ Vent Kit, FreeMount Component, Wall Mount Kit and Magnetic Mount Component.
"The Steelie product line has been a huge success for Nite Ize," Nite Ize Founder and CEO Rick Case said. "Since the first Steelie product introduction, I have envisioned an entire ecosystem of Steelie products. There is so much you can do with the Steelie concept and we're excited to continue growing the family to help users discover new solutions for device interaction."
Introducing the following new Steelie products from Nite Ize:

FreeMount Vent Kit: This universal kit works with most types of vehicle vents and most any phone on the market. Phones stay gripped securely in the adjustable FreeMount, which then connects magnetically to the Vent Mount. The FreeMount arms can be adjusted to hold phones in place with a firm squeeze, and the release button on the back makes it easy to remove phones with a smooth one-handed motion. The Vent Mount is a portable solution that can be moved easily from car to car by simply unsnapping the strong cam locking lever, then clicking it back in place on the next vehicle vent. The round shape of the ball on the Vent Mount allows the FreeMount to smoothly articulate for endless viewing angles. As an added bonus, when the FreeMount is on a phone, it allows it to connect magnetically to other convenient surfaces like your refrigerator or tool box.‬ MSRP $39.99. ‬‬‬‬For users already owning other Steelie Ecosystem products like the Pedestal, Vent Mount or Car Mount, the FreeMount is available as a separate component that would allow anyone in the vehicle, household, or office to experience Steelie. MSRP $24.99. ‬‬‬
Wall Mount Kit: The Wall Mount Kit is a simple and convenient solution for mounting tablets to vertical surfaces. The Wall Mount Base fastens easily to the wall with an included drywall anchor and screw, while the pedestal threads into the base to provide a stable mount for any tablet; then the powerful Magnetic Tablet Socket, which adheres to the device with reliably strong, removable 3M® VHB® adhesive, unites the two-piece system together. The Magnetic Tablet Socket features a strong neodymium magnet and silicone center for smooth articulation with the Wall Mount Ball allowing for adjustable viewing angles. The Wall Mount Kit is ideal for hands-free viewing and quick attachment and detachment. MSRP $44.99.
Magnetic Mount Component: The Steelie Magnetic Mount Component provides a quick and easy way to mount smartphones or tablets to any magnetic surface such as a tool box or refrigerator for hands-free use when paired with a Steelie Magnetic Phone or Tablet Socket (sold separately). This specially engineered mount features a machined aluminum base crowned with a steel ball that allows devices to be positioned and viewed from countless angles. The base is designed with a secure grip silicone center and a protective, non-slip, outer ring that stabilizes the mount and device on metallic surfaces. MSRP $29.99.
For more information about these Steelie products and more, visit NiteIze.com.
About Nite Ize:
Founded on the principles of creativity and innovation, Nite Ize designs, manufactures and distributes solution-based products with quality and performance at their core. Headquartered in Boulder, Colo., the company celebrated its 27th anniversary in 2016 and offers more than 500 innovative products and accessories in seven unique categories: Mobile, Hardware, LED Lights + Accessories, Bike, Fitness, Pet, and Games + Fun. Still captained by its founder and CEO, Rick Case, the Nite Ize team is passionate about their products, their customers, their partners and the environment.
For more information, please visit NiteIze.com.
Media Contact: Kelly Richardson / 720-508-4741 / krichardson(at)niteize(dot)com