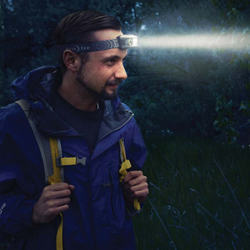 Boulder, CO (PRWEB) August 03, 2016
The Radiant® Series from Nite Ize® is a new category of lights that focuses on a high feature-to-value ratio with multi-functionality at the core. The seasoned manufacturer reveals two new Radiant Series headlamps that provide quality lighting in a hands-free solution to help blaze the trail.
The Radiant 200 Headlamp is an intensely bright and multi-functional 200 Lumen headlamp. Featuring dual color, red and white LEDs, with multiple modes including both spot and flood; it is an extremely versatile hands-free lighting solution. The water and impact-resistant* polycarbonate body integrates with a comfortable, high quality adjustable strap and can be angled 90 degrees for appropriate direction of light. Included are three AAA batteries. MSRP $29.99.
The Radiant 250 Rechargeable Headlamp offers a high quality, 250 Lumen, hands-free lighting solution with the added benefit of being rechargeable in approximately two hours. Powered by a Lithium Polymer battery, it also features dual color, red and white LEDs, with multiple modes that range from 250 Lumens (high mode) to eight Lumens (low mode) and provides high or low white spot lighting, high or low white flood mode, or red flood mode. With a 90 degree tilt angle, this headlamp can be properly adjusted to direct light only where it's needed. It can be worn comfortably and fitted properly with a high quality, adjustable elastic strap. With a run time up to 43 hours in low flood mode, the Radiant 250 Rechargeable Headlamp features a battery indicator light that turns red to communicate when a charge is needed and can be recharged with the included micro USB charging cable. The battery indicator light will also display when a charge is complete with a green light. With 250 Lumen output and the ability to recharge, this feature set is offered at an unbeatable value. MSRP $49.99.
For more information about the Radiant Series headlamps and other new products from Nite Ize, visit NiteIze.com.
About Nite Ize:
Founded on the principles of creativity and innovation, Nite Ize designs, manufactures and distributes solution-based products with quality and performance at their core. Headquartered in Boulder, Colo., the company celebrated its 27th anniversary in 2016 and offers more than 500 innovative products and accessories in seven unique categories: Mobile, Hardware, LED Lights + Accessories, Bike, Fitness, Pet, and Games + Fun. Still captained by its founder and CEO, Rick Case, the Nite Ize team is passionate about their products, their customers, their partners and the environment.
For more information, please visit NiteIze.com.
Media Contact: Kelly Richardson / 720-508-4741 / krichardson(at)niteize(dot)com
*Note: Nite Ize is proud to support the ANSI/NEMA FL1 standards for LED lighting tools. All performance data is measured to these standards.