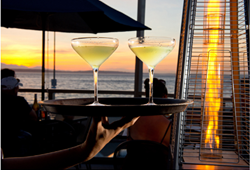 Year after year, Duke's is filling plates with delectable dishes and filling minds with the importance of seafood conservation, ocean preservation, and sustainable sourcing.
Seattle, WA (PRWEB) August 02, 2016
The Greater Seattle area is "Ready Anytime" for Seafood from Duke's Chowder House.
Just this last week, The Seattle Times shined a spotlight on Duke Moscrip, Seattle's unsung hero for fish and foodies alike. Duke "caught onto the idea of serving only the highest-quality, sustainable wild seafood about 30 years ago" and has spun quite the restaurateur legacy in Puget Sound ever since. But Duke doesn't only search for the best seafood, (already a difficult task). The Duke's Chowder House brand strives to be the best and then, challenges itself to become better still.
Just last year, Duke's was voted Best Seafood Restaurant in Seattle by KING5's The Best of Western Washington viewers. In addition, and more recently, Duke's grabbed a trifecta of titles from 425 Magazine for Best Restaurant, Best Lunch, and Best Happy Hour.
Hungry guests seeking a room with a view need look no further than the Tacoma waterfront where Duke's Chowder House sits comfortably as one of the "Top 10 Waterside Restaurants in Washington State", according to The Culture Trip. And the list continues to grow.
Duke's Tacoma Chowder House takes the cake again for outdoor dining highlighted in Travel Tacoma, a travel blog for Pierce County, Washington.
Duke's Green Lake Chowder House hosts a Happy Hour on a higher level, recognized by Ville Magazine's article, "Raise the Roof: Best of Seattle Rooftops."
Duke's Alki Chowder House was featured in Sunset, a resource that celebrates Western Washington lifestyle, for a tasty take on a seafood staple: fish and chips. Sunset also mentioned that Duke's Alki has a "bird's-eye view over Elliott Bay" and a delightful summer salad.
Food Writer, Rebekah Denn's news story in The Seattle Times, "Seattle Writer Chronicles Top Picks for Northwest Seafood," outlined an email exchange with Former Seattle Times' writer Karen Gaudette Brewer about her book, "Seafood Lover's Pacific Northwest." Karen commenting on Duke's on Alki wrote — "there's nothing more summery than to sit on their upstairs deck, cocktail in hand, with whatever wild salmon special is cooking, and watch the crowds cavort and the ferries lumber past as the sun sets behind the Olympics."
Duke's Lake Union Chowder House left hungry customers happier with Halibut – they weren't afraid to express their satisfaction on Foursquare, a popular app that unites geography and experience.
OpenTable, a popular online restaurant reservation service ranked Duke's Tacoma Chowder House among its Top 100 of 10 Washington restaurants and one of two local restaurants among America's 'most scenic', July 27, 2016.
All six Duke's Chowder House locations reported as "Top Sustainable Restaurant Group in the U.S.," according to fish2fork.com in "Fall Flavors Found" in South Sound Talk.
— all of which are favorite seafood spots for dining local around the Puget Sound.
Since 1976, Duke Moscrip has worked hard to craft a seafood legacy that will sustain itself so that his grandchildren and his grandchildren's grandchildren will also experience Sustainable Seafood forevermore.
About Duke's Chowder House
Duke's Chowder House is a family owned and operated enterprise with six different locations throughout the Puget Sound region. Renowned for its Award Winning Clam Chowder, Duke's menu is filled with delectable seafood dishes crafted by Duke and Duke's very own Executive Chef "Wild" Bill Ranniger–a proclaimed culinary genius in the region. Founder and Owner Duke Moscrip together with his son and partner John Moscrip continue their passionate journey to source wild, natural, healthy and fresh tasting ingredients that are free of hormones, antibiotics and harmful chemicals. Guests sum up their favorable assessment of what Duke's Chowder House has to offer with three words: "It's sooo good!" Duke's is honored to have received the highest seafood restaurant rating in the State of Washington by Fish2Fork, a leading evaluator of worldwide seafood restaurants, garnering a 4.5 out of 5 (no higher rating in the world). Duke's is equally honored to be among the first restaurants in Seattle to be recognized with a 100 percent volume compliance sustainable seafood rating from Smart Catch, a program designed to promote sustainability and raise consumer awareness regarding sustainable seafood options. For more information, visit http://www.dukeschowderhouse.com/.