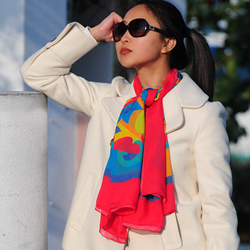 I am honored to be collaborating with the NWHM; this is a cause I can get my teeth into.
Sarasota, FL –
August, 2016 (PRWEB) August 18, 2016 -- Mary DeArment, founder of Scarves By Mary DeArment states, "I so welcome this partnership with an organization that is all about raising awareness, educating, celebrating, and documenting women's history. I love these endeavors as they are in perfect alignment with my personal philosophy and my company's brand mission: empowering women one scarf at a time." NWHM's mission is to educate, inspire, empower, and shape the future by integrating women's distinctive history into the culture and history of the United States. A key element of advancing that mission is to build a world-class museum on the National Mall in Washington, D.C.
DeArment affirms, "From the time I first discovered NWHM, I was particularly inspired by the story of founder Karen Staser and the mission of the organization which resonates with me. I am living the life of the empowered woman, embracing the struggle to balance family, finances, and ambition while running my own business."
DeArment's overall vision is to design luxury scarves, which empower women of all ages and skin tones while inviting interesting, thought provoking conversations about the positive messages embedded in her artwork. With words such as Gender Equality, World Citizen, S.T.E.M., and Peace, DeArment constructs visual puzzles, exquisite patterns, and geometric designs that magically fuse together to create a one-of-a-kind luxury scarf. As a true philanthropist herself, DeArment states, "The non-profits with whom I have partnered throughout my career are run by intelligent, inspiring, and dedicated women. In fact, many have become my champions as they encourage me in my venture of establishing a luxury brand. They share with me a concerns for health, education, and literacy. I am honored to be collaborating with the NWHM; this is a cause I can sink my teeth into."
At the 5th Annual Women Making History Brunch DeArment will be gifting her scarves to all of the remarkable event honorees and presenters including Emmy nominated actress Tracee Ellis Ross; Fashion Designer and Entrepreneur, Rachel Zoe; Oscar-nominated actress, Project Sunshine ambassador, and star of Scream Queens on FOX, Abigail Breslin; and entrepreneur Toni Ko, Founder and CEO of NYX Cosmetics and PERVERSE Sunglasses. For more information on Mary DeArment please visit http://www.scarvesbymarydearment.com. For more information on NWHM or to become a member, please visit http://www.nwhm.org.
About Scarves By Mary DeArment
From her online boutique to the swag bags of the American Music Awards and other art awards events, Scarves by Mary DeArment not only accessorize famous musicians, actors and women around the country, but they also offer a vehicle for women to literally wear their word, making a definitive statement in fashion, style, personality and social awareness. To find your word, view Mary's latest luxury scarf collection now. Nonprofit collaborations and customization ideas are always welcome.
About the National Women's History Museum
Founded in 1996, the National Women's History Museum (NWHM, Inc.) is a nonpartisan, 501(c)(3) nonprofit organization dedicated to educating the general public about the diverse historic contributions of women and raising awareness about the critical need for a national women's history museum in our nation's capital.