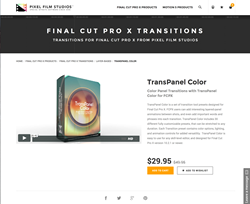 With 30 different fully customizable presets TransPanel Color is the perfect transition tool for any skill-level editor
Aliso Viejo, California (PRWEB) July 30, 2016
"With 30 different fully customizable presets TransPanel Color is the perfect transition tool for any skill-level editor," said Christina Austin - CEO of Pixel Film Studios.
TransPanel Color includes 30 different transition presets, covering three categories of shape masks. Each transition has selectable intro and exit animations for each panel, as well as unique on-screen controls for layout modifications. Each preset has a preset has an added option with motion blur.
Each TransPanel Color preset comes with 2 controllable spotlights, creating realistic shadows and the illusion of depth. The shadows from each light can be softened, and blurred for a more subtle approach to each transitions lighting with just a few minor toggle adjustments.
TransPanel Color includes editable text within each preset. FCPX users can type in single words or entire phrases, with over ten different intro and exit animations for each phrase or word. Text can be changed to animate by letter, line, or word for added variety and flexibility.
TransPanel text is a set of transition tools designed specially for usage in Final Cut Pro X. Each transition can be stretched to any duration, and can be adjusted to stand out from the previous style. Motion Blurred duplicates are included for added realism with each animation. TransPanel Color is a simple to use, novice skill-level friendly transition set for FCPX.
Established in 2006, Aliso Viejo, California-based Pixel Film Studios is an innovative developer of visual effects tools for the post-production and broadcast community. Their products are integrated with popular non-linear editing and compositing products from Apple FCPX. Apple, the Apple logo, Mac OS X, and Macintosh are registered trademarks of Apple Inc. in the U.S. and/or other countries. All other trademarks and trade names are the property of their respective owners.