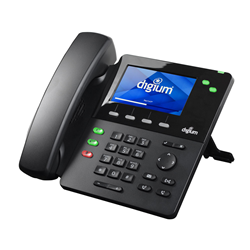 The new Digium D6x series of IP phones is available for pre-order starting today, August 1st.
Milwaukee, WI (PRWEB) August 01, 2016
IP Phone Warehouse, the most trusted reseller of online VoIP technology, is announcing that the new Digium D6x series of IP phones is available for pre-order starting today, August 1st, and will start shipping from the manufacturer one week later on August 8th. IP Phone Warehouse is a certified Digium online reseller, authorized by the manufacturer to sell and support Digium products.
The new D6x series of VoIP desk phones consists of three models: D60, D62 and D65. The Digium D60 IP Phone brings incredible sound and advanced features at a competitive price for basic users. The Digium D62 IP Phone adds Gigabit Ethernet support to the D60. The Digium D65 IP Phone expands the feature-set for more demanding users and supports Bluetooth.
The phones share a modern redesign, their thin and uncluttered profile enhanced by the bright 4.3" backlit LCD. The display has a resolution of 480x272 pixels with a color gamut of 16.7 million colors.
With this series, Digium has also redesigned the handsets, improving the HDVoice sound quality to be even more natural. The chassis has been reimagined, letting the whole phone work as a speaker cavity, improving the sound quality for the full-duplex speakerphone while reducing the footprint.
The D65 includes Bluetooth support for wireless headsets. All three models have EHS and RJ9 ports for headsets. They connect to the LAN via an RJ45 Ethernet port with a second port for pass-through to the workstation. All models support PoE (Power over Ethernet). The D62 and D65 support Gigabit Ethernet, providing future-proof speed for unified communications deployment for years to come.
The D6x series is designed to make full use of Digium's powerful open source SIP communications platforms Asterisk and Switchvox. Because these phones are designed with Asterisk and Switchvox exclusively in mind, they are plug-and-play solutions when used with those platforms. Even better, such tight integration means users can create custom apps via an open JavaScript API to focus the user experience on their company's individual needs without resorting to clumsy work-arounds. Flexibility is a core feature, not an after-thought.
IP Phone Warehouse is now taking pre-orders for the Digium D60, D62 and D65 IP phones.
Contact IP Phone Warehouse by phone at (888) 201-9056 or by email at service (at) ipphone-warehouse (dot) com to learn more about the new D6x series of IP phones from Digium.
About IP Phone Warehouse:
IP Phone Warehouse is the most trusted online reseller of VoIP technology. We are authorized online resellers of IP phones, IP-PBXs, video conferencing equipment, network security cameras, and much more. With expert pre- and post-sales customer support, same day shipping, and unbeatable prices, IP Phone Warehouse is the website of choice for businesses looking to acquire the many benefits of enterprise VoIP.