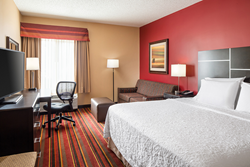 Loveland, Colo. (PRWEB) August 03, 2016
Hampton Inn by Hilton Loveland invites guests to experience the Larimer County Fair & Rodeo to Loveland this summer! The fair and rodeo will be held at The Ranch Events Complex, just five minutes up the road from Hampton Inn by Hilton Loveland. The fair and rodeo begin on Friday, August 5th and last through Tuesday, August 9th. The fair offers attendees complimentary admission, with various free and paid activities. The rodeo does charge an admission, starting at $12. Guests will experience great firework shows, horsemanship contests, food trucks and much more.
For more information, please visit http://www.larimercountyfair.org/.
Hampton Inn by Hilton Loveland is a proud official sponsor of the Larimer County Fair and Rodeo this August. To welcome guests choosing to stay in Loveland this summer, Hampton Inn is offering a special $149 rate, valid only during the fair and rodeo. To book this rate, guests should call (970) 593-1400 and mention the Larimer County Fair rate. Hampton Inn by Hilton Loveland looks forward to welcoming you!
Situated in Colorado's natural splendor, the Hampton Inn by Hilton Loveland serves as a great connecting point to the many wonders of the Denver-Boulder area. Settle in comfortable rooms and enjoy the nearby attractions of the Front Range. Guests will enjoy great amenities, such as, free breakfast, complimentary Wi-Fi, fitness center, 24-hour business center and much more, during their stay. The hotel is within easy reach to the Rocky Mountain National Park, one of the country's most majestic sites, as well as Estes Park, Poudre Canyon Scenic Highway and the scenic rock formations of Devil's Backbone.
Guests can easily take in the arts and culture of the area, as the hotel is conveniently located near the Edora Ice Center, the Budweiser Events Center, the Benson Sculpture Park and the Loveland Historical Museum. Take a short drive into nearby Boulder to enjoy the famous Pearl Street Mall, or take a day trip to Denver and explore all the city has to offer.
For more information and to book guest rooms, please visit http://www.hamptonloveland.com or call (970) 593-1400. The Hampton Inn by Hilton Loveland is proudly managed by Stonebridge Companies in Denver, Colo.
Founded in 1991 by Navin C. Dimond, Stonebridge Companies is a privately owned, innovative hotel owner, operator and developer headquartered near Denver. This diverse listing of properties includes select-service, extended-stay, mid-scale and full-service hotels in markets throughout the U.S. For detailed information, visit the website at http://www.sbcos.com.