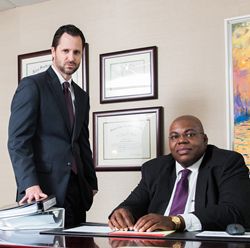 Tampa, FL (PRWEB) July 29, 2016
The back-to-school celebration is expected to entertain approximately 120 children, plus their parents, and will include music, food, drinks and activities.
Givens Givens Sparks' lead personal injury trial attorneys, Christopher Codling and Robert Sparks, will attend to help distribute backpacks filled with much needed school supplies to the attendees.
"As Tampa natives, we feel that this community has given us so much," said Codling. "Any way that we can give back, and pay forward that same generosity that was shown to us as youth, we are all in."
The 'Back to School Jam' will be held at Pilgrim Rest Missionary, 4202 West Nassau Street, Tampa, Florida 33607.
Givens Givens Sparks is a trial law firm representing individuals and their families in state and federal cases ranging from personal injury and wrong death actions, to commercial insurance litigation and complex high net-worth divorce cases. With more than 135 years of combined professional experience, the Givens Givens Sparks team of lawyers is dedicated to the advocacy and protection of their clients and their families. To learn more about Givens Givens Sparks, please visit: http://www.givenssparks.com.