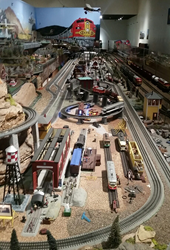 If you traveling to Kansas City its well worth the visit to Union Station to see a view from America's past
Alameda, CA (PRWEB) July 31, 2016
California Pipe Bursting Manufacturer TRIC Tools traveled to Kansas City for the 2016 the American Society of Civil Engineers (ASCE) Pipeline Conference downtown Kansas City. The Conference was held Sunday, July 17th to Wednesday, July 20th at the Sheraton at Crown Center, 770 West 47th Street, Kansas City, MO. The Sheraton was directly adjacent to Kansas City's Union Station train depot. Operations Director Michael Lien flew out to meet with Midwest Regional Sales Manager Bill Seals for the conference. Union Station houses one of nation's best model train exhibits. "If traveling to Kansas City its well worth the visit to Union Station to see a view from America's past," said Mr. Lien. Since coming on board a year ago Mr. Seals has enabled TRIC's customers in the Kansas City area complete some challenging pipe bursting projects.
While at the conference Bill and Michael met a number of city public works managers as well as design engineers who were in the midst of planning pipe rehabilitation projects. It was a pleasure to meet both Plastics Pipe Institute's Director of Engineering Camille Rubeiz, P.E. and Louisianta Tech University's Director of the Trenchless Technology Center (TTC), Tom Iseley, Ph.D., P.E. who've contributed so much to the success of TRIC's pipe bursting invention. During quiet time on the trade show floor during seminar events, vendors had additional opportunities to find out what the Plastic Pipe Institute, TTC and others are doing to advance the pipe rehab industry.
The ASCE represents more than 150,000 members of the civil engineering profession in 177 countries and was founded in 1852. It is the nation's oldest engineering society. The ASCE leads the civil engineering profession with plans, designs, construction plans and provides the society's economic and social vehicle while protecting and rehabilitating the natural environment. With the knowledge of its active members, ASCE leads by providing technical and professional conferences through continuing education, publishing engineering content and acts as an authoritative source for codes and standards that protect the public.
The ASCE's newest Institute, Utility Engineering and Surveying Institute (UESI) mission is to advance the engineering and technical practices associated with utility infrastructure systems, pipeline engineering and surveying.
TRIC Tools, Inc. is an infrastructure and environmental solutions company that provides proprietary technology, tools and services for trenchless rehabilitation and replacement of sewer, water, gas and other difficult to access underground pipes. TRIC holds five U.S. and International patents for its device and method of trenchless pipe bursting.
In 1997, TRIC established the standards and created the industry for lateral replacement (home's sewer line) using its pipe bursting technology. TRIC continues to re-engineer its technology for new markets, expanding upon its domestic sewer lateral tools with the introduction of innovative solutions for mainline sewer, drinking water and gas distribution pipelines. To learn more about TRIC or the trenchless industry please call 888-883-8742 or go to their website at http://www.trictools.com.