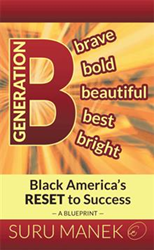 BREA, Calif. (PRWEB) July 05, 2016
Seeing the socioeconomic plight, racism, violence, poverty and other issues endured by African Americans highlighted by the Black Lives Matter movement reminded Suru Manek of the adversities his own ethnicity had to overcome. This was his inspiration for "Generation B" (published by Xlibris), his proposed roadmap to prosperity drawn from his experiences facing and prevailing over hardship and racial discrimination, along with helpful lessons and practices from his Gujarati (East Indian ethnicity) culture that he believes can assist others in similar circumstances.
"Black America's socioeconomic plight is in the news everyday; even President Obama has suggested the My Brother's Keepers concept to address this issue," says Manek. "As per the title, 'Generation B: Black America's Reset to Success' provides tips on how African Americans and other ethnicities can get out of the socioeconomic plight a majority of them have been in for years, and become immensely prosperous in one generation."
Manek recounts how he learned to stand up to racism and discrimination in colonial Africa before finding success in America. He attributes some of this to his ethnic background and proposes that African Americans adopt traits of the Gujarati culture and rituals—in which adopters, both individually and collectively—can cultivate a lifestyle that defines their destiny. He asserts that this will help alleviate socioeconomic doldrums, calling it a cultural blueprint made up of a "magic mix of cultural elements that can bring success to even the most oppressed."
"Generation B"
By Suru Manek
Hardcover | 6 x 9in | 290 pages | ISBN 9781503556690
Softcover | 6 x 9in | 290 pages | ISBN 9781503556706
E-Book | 290 pages | ISBN 9781503556683
Available at Amazon and Barnes & Noble
About the Author
Suru Manek, a successful business owner and long-time president of the Lohana Community of Los Angeles, is of East Indian ancestry. Growing up in abject poverty in rural Kenya, he experienced extreme racial discrimination at the hands of the British colonial government. He vowed to never be victimized, staying true to his Gujarati heritage of deep spiritual commitment, strong family ties, and an entrepreneurial spirit that has never failed him. He was named the 2014 Raghuvanshi, the International Lohana Person of the Year, for his work in the fields of religion, culture and education and reaching out to other communities in the Los Angeles area. On Feb. 25, 2016, his book was honored by the Lohana Community in the presence of Gujarat State's governor, Mrs. Anamdiben Patel and Rev. Morari Bapu, internationally acclaimed Ramayana scripture orator. On May 1, 2016, 51 different Gujarati organizations honored him in Los Angeles for reaching out to the African Americans via his book's message.