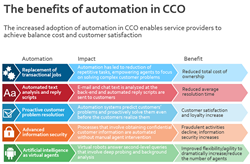 Contact centers across the world are moving into the digital era with a focus on enhanced customer experience in a multi-channel environment
Dallas, TX (PRWEB) August 01, 2016
Technology is the leading investment theme in the contact center outsourcing (CCO) industry, followed by scale. Enabler technologies accounted for about three-fourths of the reported investments in 2014-2015, with analytics, automation, and multi-channel tools being the major areas of investments, according to new research from Everest Group, a consulting and research firm focused on strategic IT, business services, and sourcing.
"Contact centers across the world are moving into the digital era with a focus on enhanced customer experience in a multi-channel environment," said Katrina Menzigian, vice president at Everest Group. "Service providers are responding by shifting their value proposition from the traditional, FTE-based focus on cost containment and implementation to an emphasis on providing insights and innovation to enhance the customer experience."
Another aspect of the CCO market marking a notable increase in 2015 was onshoring activity, as buyers increased their focus on improving service quality and demonstrated a preference for agents located close to customers. In 2015, the percentage of CCO contracts with significant onshore delivery rose to 53 percent, as compared to 35 percent in 2010 and 49 percent in 2013. This trend also has led to the growth in adoption of a work-at-home agents model, which incurs lower operational costs than onshore full-time-equivalents (FTEs).
Otherwise, movements in the market were modest in scale. Experiencing a period of transition, the global CCO market grew at a rate of 4 percent in 2015 to reach US$75-78 billion. The global contact center spend stands at US$300-320 billion, of which third-party outsourcing accounts for approximately 25 percent.
These findings and more are discussed in "Contact Center Outsourcing Annual Report 2016: The Rise of Digital Contact Centers – Clear Evidence that Real Change is Underway."
*** Download Complimentary, Publication-Quality Graphics Here ***
High-resolution graphics illustrating key takeaways from this research can be included in news coverage, with attribution to Everest Group. Graphics include:

The benefits of automation in CCO
Digital initiatives changing CCO fundamentals
Why the CCO market continues to grow, but at a slower pace
CCO and the rise of onshore delivery
About Everest Group
Everest Group is a consulting and research firm focused on strategic IT, business services, and sourcing. We are trusted advisors to senior executives of leading enterprises, providers, and investors. Our firm helps clients improve operational and financial performance through a hands-on process that supports them in making well-informed decisions that deliver high-impact results and achieve sustained value. Our insight and guidance empowers clients to improve organizational efficiency, effectiveness, agility and responsiveness. What sets Everest Group apart is the integration of deep sourcing knowledge, problem-solving skills and original research. Details and in-depth content are available at http://www.evererstgrp.com and research.everestgrp.com.
###
Contact:
Andrea M. Riffle, Everest Group
andrea.riffle(at)everestgrp(dot)com
Robert Cathey, Cathey Communications
+1-865-386-6118
robert(dot)cathey(dot)co