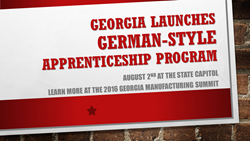 Potential game changer for Georgia's manufacturing future.
Atlanta, Georgia (PRWEB) July 31, 2016
E.G.O. North America, in Newnan, GA, is the U.S. headquarters of a German company that manufactures heating elements for commercial and industrial facilities. Their CEO, David Keller, is helping launch an apprenticeship program in conjunction with the school board of Coweta County. The program is modeled after the apprenticeship programs that have been in use in Germany for the past 100 years.
Jason Moss, the founder of the Georgia Manufacturing Alliance (GMA), a grass roots organization created to promote, educate, and connect Georgia manufacturers with one another, recently met with Keller and Mark Whitlock, a representative of the Coweta County school system, to discuss how the GMA could help promote the apprenticeship program to other companies and schools across Georgia.
"It is vital to the health of Georgia's manufacturing sector that employers and secondary schools across the state adopt an apprenticeship program to attract young people to good paying jobs in manufacturing," said Moss.
"The German program has helped make German manufacturing companies the envy of the world. There is no reason why manufacturers in Georgia can't achieve that same level of success."
At the GMA's annual Manufacturing Summit at the Cobb Galleria on October 26th, a panel discussion on the German-style apprenticeship program will include manufacturers and school system representatives from Coweta County as well as officials from the state's economic development department and the Technical College System of Georgia. This is one of six educational sessions that will be provided at the Summit. "We are very excited that TSI Solutions of Stone Mountain will be co-sponsoring this session about Georgia's apprenticeship program," said Moss.
"GMA is uniquely positioned to help facilitate the spread of this apprenticeship program across Georgia," said Moss.
"It has the potential to be a game changer for the state's manufacturing community."
On August 2nd, Lt. Governor Cagle will host a ceremony at the Georgia State Capitol to mark the launch of a new German-style apprenticeship program in Coweta County. http://goo.gl/NjglYE
Details about the GMA Summit are available on the organization's website at http://www.GeorgiaManufacturingSummit.com.
About the Georgia Manufacturing Alliance
The Georgia Manufacturing Alliance is a professional organization founded in 2008 to support Georgia's manufacturing community. GMA provides monthly plant tours, educational sessions and unique networking opportunities designed to help make profitable business connections for its members. To learn more about the organization, visit GeorgiaManufacturingAlliance.com.