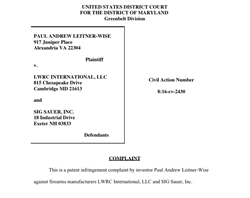 Alexandria, Virginia (PRWEB) August 03, 2016
Case 8:16-cv-02430-DKC
Maryland District Court
According to Court Documents:
Court Case Link
A federal lawsuit was filed in the state of Maryland by Paul Leitner-Wise against LWRC International, LLC and SIG Sauer, Inc. for alleged patent infringement. The suit alleges that SIG Sauer, Inc. and LWRC International, LLC knowingly used the inventions of Paul Leitner-Wise after his departure from the Leitner-Wise Rifle Company, which allegedly violated his intellectual property rights without compensation.
The complaint states that Paul Leitner-Wise founded the Leitner-Wise Rifle Company (LWRC) in 1999 and departed in 2006, but he alleges in the complaint that LWRC continued to use his patents and never paid him any royalties. The lawsuit also alleges LWRC fraudulently assigned the patent in 2008 to LWRC International, LLC in order to avoid royalty payments to Leitner-Wise.
Additionally, the lawsuit also alleges that the American affiliate of German firearms giant SIG Sauer, SIG Sauer, Inc., has used Leitner-Wise's patents for years. SIG Sauer, Inc. was even sued by LWRC International, LLC in the same court over use of the patent in 2011. According to the court complaint, the parties quickly settled the case and had a protective order placed on the evidence.
At the heart of the matter is the alleged use of Paul Leitner-Wise's patented Operating Rod System, which uses a piston to open the rifle's bolt instead of gases, which is the traditional AR-15 operating system. This operating rod system was the invention that originally put Leitner-Wise on the map in the firearms industry. The operating rod keeps hot gases and gunpowder residue from reaching the bolt carrier and extends the life of the rifle.
The patent is an exhibit attached to the court complaint. LWRC International, LLC sold approximately 7,900 AR-15 type rifles to the U.S. public in 2013 with this technology, according to the Bureau of Alcohol, Tobacco, Firearms and Explosives website.
According to court documents, no copy of the royalty agreement between Paul Leitner-Wise and LWRC could be found, but recently Leitner-Wise's attorneys discovered the document in other court filings. Court documents also indicate the attorneys put all the other pieces together through investigation of the history at the Patent and Trademark Office. Leitner-Wise is suing for monetary damages, to be determined by sales figures for the infringing rifles, and for injunctive relief.