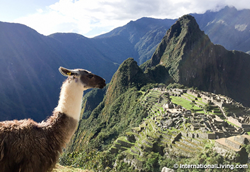 During a recent visit, International Living correspondent Jason Holland says he thinks he's discovered one of the world's best-kept overseas retirement secrets.
Baltimore, MD (PRWEB) August 01, 2016
Peru is not on many people's radar. It doesn't appear on any "top 10 retirement destinations" lists. Mention "Peru" and most people think of the Inca ruins at Machu Picchu, and llamas. But this country is poised to join the retire-abroad "Big League" according to a new report from International Living. During a recent visit, International Living correspondent Jason Holland says he thinks he's discovered one of the world's best-kept overseas retirement secrets.
Holland found the cuisine tasty and affordable, rents very low (even in upscale neighborhoods), and the climate comfortable. Throw in modern infrastructure and health care in the bigger population centers. Plus, consider the vibrant mix of music, festivals, indigenous culture, and colonial history, and Peru starts to look very attractive for anyone considering a retirement in Latin America.
Peru is a large country, about twice the size of Texas. But there are certain places where expats have congregated, thanks to the great climate, beautiful landscapes, and wide range of amenities available. Because these established expat communities exist, they can make the transition to life there easier on new arrivals.
Holland found several Peruvian locations that have great retirement potential.
Arequipa
The southern city of Arequipa is at the top of the list. The city is built around a UNESCO World Heritage site, a district of well-preserved Spanish-colonial homes and churches. Arequipa is known as Peru's "White City," as many of the old buildings are built from sillar, the white volcanic rock quarried in the nearby mountains. And the way it shimmers in the sunlight gives this city a truly special look.
Arequipa is set against a backdrop of three volcanoes, two active and one inactive. Isolated from the rest of the country for centuries, many locals feel that they are Arequipeño first, Peruvian second. They have a sublime regional cuisine, too, including rocoto relleno, a spicy red pepper stuffed with ground beef, onions, and garlic.
Set in a high-altitude sierra, Arequipa enjoys 300 days of sunshine a year, with only a bit of rain in January and February. And aside from colder months in June and July, temperatures are in the low- to mid-70s F year-round during the day, dipping into the 60s F and high 50s F at night. Perfect for a day at the park or sitting at a café watching the world go by with a coffee or a hoppy craft beer brewed right in town.
Arequipa's small expat community here is mostly made up of young people teaching English, spouses of Peruvians, business owners, or volunteers with religious missions or NGOs. But mixed in among them is a growing number of retirees.
Cusco
Cusco, the old capital of the Inca Empire and later a major city of the Spanish colony, is a place that breathes history. The colonial quarter, surrounding the showpiece Plaza de Armas, is full of narrow cobblestone streets, cathedrals and churches, quiet courtyards, and vibrant plazas.
But it's also a booming city of 500,000 people, with red-brick homes and apartment buildings extending to the edges of the valley and up into the surrounding hills. Despite their both being colonial cities, Cusco has a more homelike and historic feel than Arequipa. Perhaps it's the narrow lanes with uneven pavement, the buildings built on Inca ruins, the indigenous dress on display by everyday residents. This was the center of Inca life, and it still is to this day for their descendants.
One thing to keep in mind is that this is a tourist stop, usually combined with a trip to Machu Picchu. The waiters waving restaurant menus and tour brochures are numerous but polite, and they quickly dissipate once you leave the main plaza. But tourism means that there are plenty of comforts in Cusco, including gleaming shopping malls, modern services, and international restaurants tourism has brought.
Another thing to remember is that Cusco is at an altitude of 11,000 feet above sea level. People who have health issues with altitude should be careful.
Jason Holland's report contains more information on cost of living and other details about Peru and its best locations for retiring abroad. Find Holland's latest International Living report at:Affordable Living with a Comfortable Climate in the Land of the Incas.
Editor's Note: Members of the media have permission to reproduce the article linked above once credit is given to InternationalLiving.com.
For information about InternationalLiving.com content republishing, source material or to book an interview with one of our experts, contact Associate Editor Carol Barron, 772-678-0287 (US), CBarron(at)InternationalLiving(dot)com or visit the Media Center.
For 36 years, InternationalLiving.com has been the leading authority for anyone looking for global retirement or relocation opportunities. Through its monthly magazine and related e-letters, extensive website, podcasts, online bookstore, and events held around the world, InternationalLiving.com provides information and services to help its readers live better, travel farther, have more fun, save more money, and find better business opportunities when they expand their world beyond their own shores. InternationalLiving.com has more than 200 correspondents traveling the globe, investigating the best opportunities for travel, retirement, real estate, and investment.